NIKOLAJ KNOWS TALANT'S PASSWORD: RNL beat Kielce once again!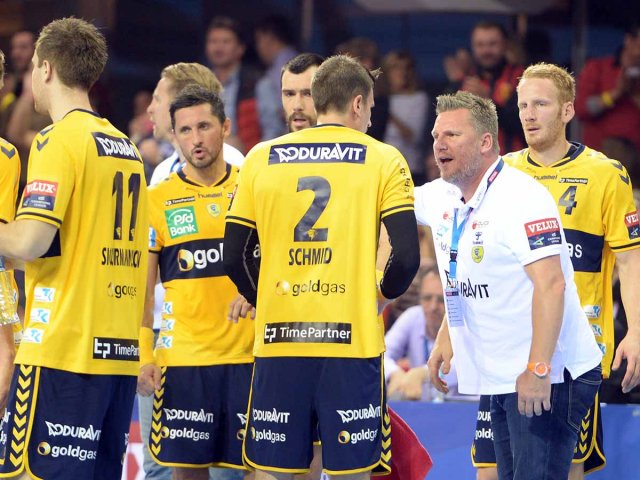 Rhein Neckar Lowen, once again, showed domination in matches against reigning EHF Champions League winners – Vive Tauron Kielce 28:25 (16:13). Nikolaj Jakobsen obviously knows the key for success against Talant Dujshebaev way of handball.
However, the Polish champions are still No.1 in the group, but on Saturday, RK Vardar Skopje will have a chance to overtake that place by victory over RK PPD Zagreb at home.
Rhein-Neckar Löwen – KS Vive Tauron Kielce 28:25 (16:13)
Rhein-Neckar Löwen: Appelgren, Palicka – Schmid (3), Sigurdsson (7/2), Banea Gonzalez (2), Steinhauser (n.e.), Larsen (2), Reinkind (2), Gedeon Guardiola (1), Groetzki (1), Ekdahl du Rietz (4), Pekeler (1), Petersson (5)
KS Kielce: Szmal (ab 30.), Ivic – Jurecki (2), Walczak (1), Reichmann (3/1), Chrapowski, Kus, Aguinagalde (5), Bielecki (3), Jachlewski (1), Ivic, Strelek (4), Lijewski (2), Paczkowski (1), Zorman (2), Bombac (1), Djukic
STANDINGS:
1. KS Vive Tauron Kielce
10
7
0
3
294
:
276
(18)
14
2. MOL-Pick Szeged
10
6
1
3
275
:
254
(21)
13
3. Rhein-Neckar Löwen
10
6
1
3
281
:
276
(5)
13
4. HC Vardar
9
6
0
3
271
:
248
(23)
12
5. HC Meshkov Brest
10
4
3
3
281
:
278
(3)
11
6. RK Celje Pivovarna Lasko
9
1
3
5
250
:
274
(-24)
5
7.

HC Prvo plinarsko drustvo …

9
2
0
7
221
:
240
(-19)
4
8. IFK Kristianstad
9
1
2
6
243
:
270
(-27)
4