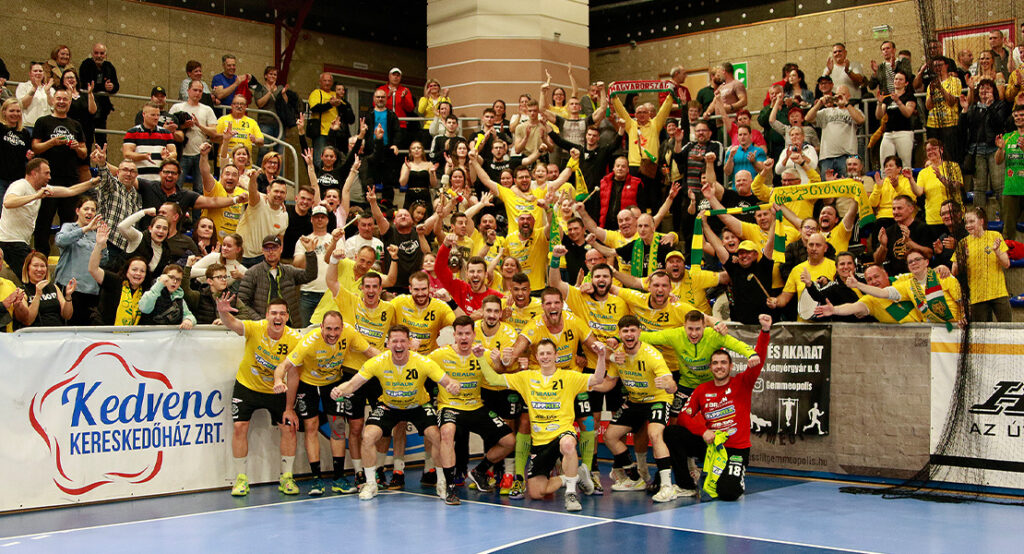 HE-DO B.Braun Gyongyos are the only fourth team who took the scalp of Pick Szeged in the last 10 seasons of the Hungarian Championship.
Over 1.200 fans could join in the epic day for their club as they beat reigning champions 30:28.
Pick Szeged are obviously in small crisis after failure in EHF Champions League, where they lost at TOP 16 phase against SG Flensburg Handewitt.
HE-DO B. Braun Gyöngyös – Pick Szeged 30-28 (15-13)
HE-DO B.Braun Gyöngyös: Merkovszki, Tomic, Vasic, Nkousa, Ubornyák 5, Jaros, Mátyás, Varsandán 4, Hegedűs 4, Gábori, Duris 4, Vilovski 5, Gerdán, Papp 2, Gráf 2, Markez 4.
Pick Szeged: Mikler, Alilovic, Tonnesen 1, Bodó 2, Martins, Henigman, Radivojevic 5, Gaber 3, Sostaric 1, Frimmel 7, Radvánszki, Garciandia 4, Bombac 2, Rosta, Mackovsek 3, Blonz.
STANDING:
1.

Szeged

22
20
1
1
783:565
41
2.

Telekom Veszprem

21
19
2
0
754:552
40
3.

Balatonfuredi

21
14
2
5
648:581
30
4.

Tatabanya

21
12
2
7
609:596
26
5.

Ferencvaros

21
12
0
9
661:626
24
6.

Komloi

21
10
3
8
604:611
23
7.

Gyongyosi

21
10
1
10
596:618
21
8.

Budakalasz

22
9
3
10
589:641
21
9.

Csurgoi

20
8
1
11
489:536
17
10.

Dabas

21
5
3
13
549:591
13
11.

Veszpremi KKFT

21
6
1
14
587:643
13
12.

NEKA

21
6
1
14
570:636
13
13.

Eger

22
3
2
17
604:717
8
14.

Kecskemeti TE

21
3
0
18
536:666
6