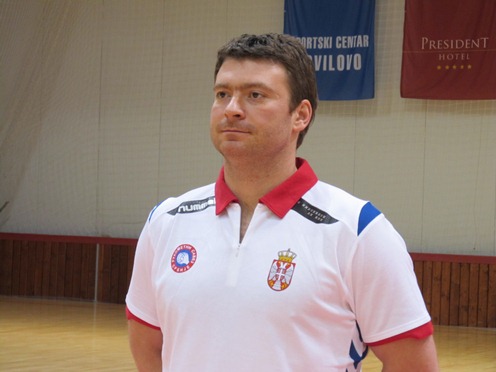 Serbian line-player, Rastko Stojkovic (31) begins preparation for the Olympic Games in London with his NT on Kopaonik mountain. Before the start of final stage, one of the most popular Vive Targi Kielce players talks for Handball-Planet.com in one relaxed manner.
Do you have problems in Poland after their NT was eliminated by Serbia and Spain in OG qualification in Alicante?
– I didn't have any problem or get any negative comment by my Polish friends. They all know that I am huge proffesional. When I play for my country, that is another story. I am sorry because of Poles. People there understood that clashes in the best possible way. Some Polish friends wish me to see me in Kielce with medal from London. That was really nice from their side…
Polish fans respect you…
– I made my name there. People respect that there and they all know that when you have to play for your country, there is no emotions for the rivals. Every athlete has that kind of situation in his career.
What do you think about though group for Serbia at Olympic Tournament?
– Even "group of death" someone has to survive. Four teams will do that. This is maybe some "easier" way to reach semi-final, because if Serbia win third place, we won't play against France in 1/4 Final. Even if you win second group, you will have problem to beat fourth team from our group. I don't like to speak about mathematics. When everything come to the end, we will make conclusions.
You have now the real Balkan colony in Kielce?
– Management is obviosly satisfied with all we have done in the last few years. In other case, door for new players from Ex-Yu would be close.
In his first interview, Manuel Strlek said "See you in Cologne". Is possible for Kielceto play in the EHF F4 next season?
– Club has big expectations and that is understandable if you know how much money is invested. It is question, what is realistic. It's depend from many things, expecially preliminary group. If you get group like Wisla this year, you can be first or second in the Group. Under that circumstances you can be really close to 1/4 Final, also semi-finals. A little luck and we are in Cologne, but draw has to be good.
Did you, Zorman, Buntic and Co. make "Balkan clan" in Kielce or Poles are more than welcome…
– They are more than welcome of course. System of friendship is much different in our countries. We are almost always together, go to coffee, dinner, etc. Poles are little bit more introvert, but much familiar than Germans, where I was before…
THE ONLY WAY TO HELP OUR HANDBALL PROJECT IS TO SHARE OUR LINK – THANK YOU