Referees Nacevski and Nikolov after the Final: I was 100% sure that Karacic made at least 6 steps…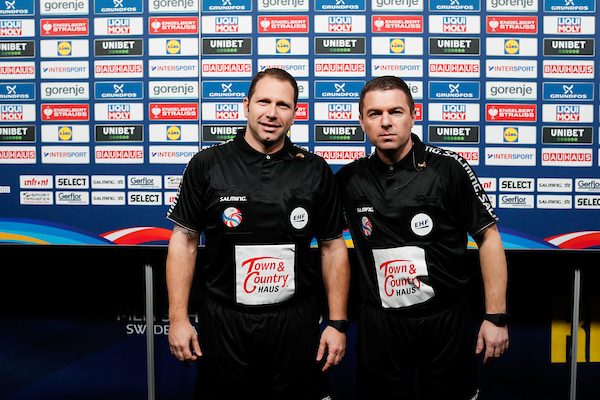 The Men's EHF EURO 2020, ended with the triumph of Spain, had an interesting ending in which a good assessment was played by Macedonian judges Djordji Nacevski and Slave Nikolov, who seized the ball to Croatia after an error in the steps of Igor Karacic, which opened the way for the Spaniards in the last minute.
The articles on Handball-Planet.com also attracted a lot of attention, in which we called the Macedonians the "best players" of one, in quality, mediocre finals in which the teams did not shine.
Given his position on the field, Nacevski received a question from his colleague Nikolov, who was at the goal-line, after taking ball from Igor Karacic, "What did you whistle?", to which he replied, "Don't worry, I'm sure there were steps."
Here's what Nacevski told Balkan-Handball.com after the final match…
Normally, it is difficult to make one such decision, because you do not want to be the one to decide the final of the European Championship at the last minute. The facilitating thing is that at that point I was 100% sure the player had taken at least six steps. All this, however, you have to decide in a split second.
How much was the style of play of the Spaniards and Croats demanding for your job in the final?
It is not easy to judge Spain and Croatia, given that both teams play strong defenses, as well as dirty ones, as can be seen by the number of exclusions they have. We tried to minimize the problems with our authority and knowledge and to end the game with two exclusions on each side. Of course, the important thing is that these players value us as referees and persons, so they know that any decision we make will never be directed against one team intentionally.
What is the pressure to be a part of the final?
The pressure is always there, and it has been much greater since we judged Croatia where we have many friends. That is why we did our best to be fair and careful in every decision, because we did not want to give rise to negative comments on the other hand – concluded the story for Balkan-Handball.com, Gjorgji Nacevski.