After match in Zagreb in which RK Celje Pivovarna Lasko lost all chances to qualify for EHF Champions League TOP 16, dissatisfied with all what happened in Arena Zagreb, the EHF Cl winners from 2004 and one of the teams with biggest tradition in Europe sent open letter to EHF president Michael Wiederer, calling for changes in handball.
RK Celje Pivovarna Lasko "open letter" to EHF president
Dear Mr Wiederer,
We are hereby sending you this open letter, which we also sent to other clubs, commissions, sponsors of thecompetition and the media, so allow us first to briefly present ourselves. We are a club with over 70 years of history. In 2004 we became the European Champions after beating Spanish Ciudad Real in the semi-finals and German Flensburg in the finals. In a city with only 49,000 residents the team was greeted in front of the sports hall by over 20,000 fans and supporters, which is another confirmation that the city of Celje lives with and for handball. This year was our twenty-second season in the elite European competition, i.e. the Velux EHF Champions League, and we are one of the few long-standing handball trademarks, a fact last recognised by the EHF, which awarded us the Champions League Branding Award. Besides winning the Champions League, the club also appeared six times in the Champions League semi-finals, it won the European Super Cup once, while we were the national champions 20 times. We also have numerous loyal long-term sponsors, including Pivovarna Laško (a part of the Heineken group), which has been our main sponsor for a total of 27 unbelievable years.
We are writing to you with respect to our initiative to change the competition mode. An idea which we have been pondering for quite a while and an idea which has often been discussed in the European circles. We decided to write the letter after we failed to progress to the Last 16 for the second time in a row after losing the decisive match in Zagreb. This happened under circumstances which are not and should not become a value of the most elite European contest, nor are they values, which would be supported by sponsors and players in this competition. Last year we considered this a sad coincidence, but this year we cannot continue to do so. The match is now forgotten in the past and so is this year's competition, however, we would like toaddress this to ensure a better future.
Handball is a sport of unlimited potential, characterised by its speed, gladiator spirit, fierceness, appeal, relentlessness, chivalry, etc. It includes all elements which attract viewers and sports fans, however, it also contains many thing which fail to appeal to them. Ambiguous rules, organisational nonsense, lack of equality, scheduling of matches, as well as excessive influence of referees, just to name a few. However, the influence of referees results from our failure to adopt unambiguous rules, which gives referees too many options on one hand, while burdening them with excessive workload and casting a shadow of doubt on their work.
The scheduling of decisive matches of the last round at different times is one of the major problems. By doing this we create room for potential irregularities, while allowing numerous conspiracy theories to harm our reputation. This is definitely not the way to create a better environment for the people – handball players – which is the moto of competition's main sponsor, VELUX. The company claims that everything it does is always underpinned by their criteria of excellence. If we sincerely wish they will continue to do so in the Champions League, we should adhere to the same principles.
It is essential to set a permanent time of matches, since it is extremely difficult to accustom our fans and supporters who come to see the match live as well as those who watch the matches on television that the time of the match is different in each round. We should not accept the position that this is how we try to find space for handball on television. We should look up to other leading sports/disciplines.
First, handball is primarily played for the people, spectators and supporters – a position, which we support. Up to now the European matches in our sports hall attracted a total of 402,305 spectators. However, if we would have introduced the above-mentioned changes their number would be even higher. Many of our supporters follow us on away matches; our last away match in Zagreb was attended by over 700 of our supporters, which is one of the largest visiting supporting groups attending the matches, besides Veszprem and Szeged supporters. In our case, these are peaceful supporters, including many families and children. With unusually through safety checks they managed to achieve that they arrive to the match 20 minutes late. This will definitely make them rethink, if not cancel their visit to the next handball match. They ask us how could this happen and demand that we appeal and take actions. This is not something we desire, and definitely not something desired by handball sponsors.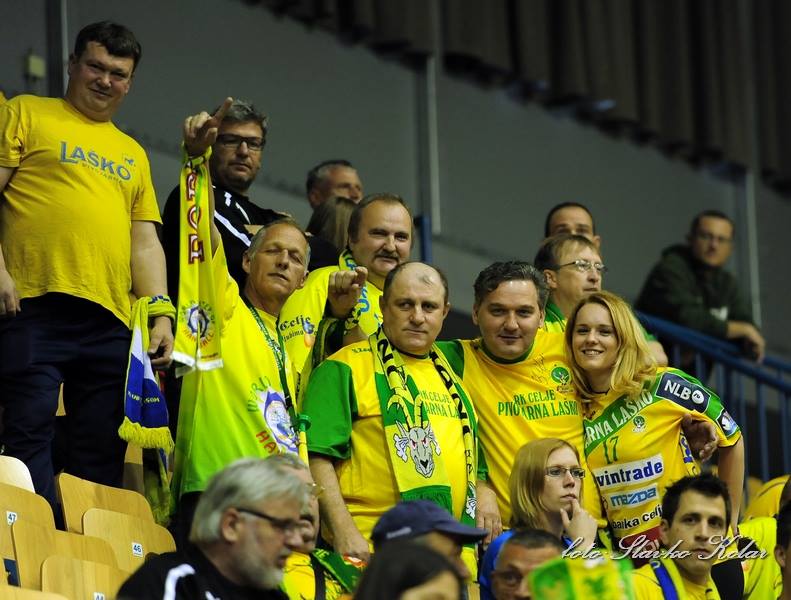 One of the main problems are also referees and/or the rules. On many occasions the referees are not always directly responsible for their errors, e.g. referee pairs who do not conduct complex matches in their domestic competitions, often have a significant problem switching to top-grade handball bursting with speed, fights and duels on the court. This, of course, leads to errors. The Clubs are punished for their errors on the court by losing points and/or not progressing to the next rounds of competition. Unfortunately, we do not know what the punishment for referees and delegates is; e.g. during our last match in Zagreb the delegate allowed the match to start without a working scoreboard and timer for approximately 20 minutes. After our comment that in this case a substitute clock must be placed on the referee's desk (Point 2.4.2 of the VELUX EHF Champions League Reuglations), the delegate failed to respond and continued to measure all times, including suspensions on his stopwatch. Regarding referees, we also recommend that you watch our last year's and this year's matches in Zagreb. We will send the analysis to Mr Djurković, while we enclosed the links to the match at the end of this letter. Although there were several indirect errors, we kindly ask that you pay special attention to the intentional stopping of our typical fast game, and to the fact that the last attack of the home team lasted 79 seconds. Another example of such referee actions is also the dubious decision of Hungarian referees during last attack in the match against Kristianstad. In football we witness immediate measures and public statement of the in charge organisation on potential measures. Last example of this could be observed after the match between Barcelona and PSG. However, in handball simply nothing happens – and this should not become our value.
We must also follow the wish and aim to change the handball rules in cooperation with IHF, in order to improve the game and to reduce individuals' influence, e.g. influence on passive play and excessively long attacks. We are well aware that we cannot change the past, but on the other hand, handball must make a step forward towards a brighter future. Limitation of attacks to a specific time (e.g. 30 seconds from the beginning of the attack on the attacking side's half), after which passive play warning is issued immediately and the attacker can implement a maximum of six passes prior to completing the attack, would be just one possible solution, since there are many possibilities.
We sincerely hope that you will recognise this letter as our wish and initiative to improve the system and decrease anomalies that cast a shadow on our sport. If we summarise, we propose that all decisive matches are played at the same time, while we further request a thorough implementation and compliance with EHF proposals that only those referees, who are not in any way affiliated to the playing teams, should act as referees in the decisive matches. We strongly believe that the same values are cherished by other stakeholders, therefore we call upon all other European clubs and handball stakeholders, sponsors who promote themselves through the sport, as well as the media and supporters to join our initiative, since only together we can take this sport to a higher level.
Changes are a part of our everyday lives and they simply must happen. There are not many people who are still convinced that better times wait handball, however, we, our young players and our supporters continue to believe so.
On behalf of the Management Board of RK Celje Pivovarna Laško
Bojan Cizej, Club President and President of the Management Board
PS – Before sending, we informed Slovenian Handball federation and it's President, Mr Franjo Bobinac with
the content of this letter, which they approve and agree with it.
• RK PPD Zagreb-RK Celje Pivovarna Laško, season 2015/16
http://www.ehftv.com/gb/video/2016-02-27-hc-ppd-zagreb-rk-celje-pivovarna-lasko
• RK PPD Zagreb-RK Celje Pivovarna Laško, season 2016/17
http://www.ehftv.com/int/video/2017-03-09-hc-prvo-plinarsko-drustvo-zagreb-rk-celje-pivovarna-l
Copy sent to:
– Mr Michael Wiederer, President of EHF
– Mr Božidar Djurković, President of EHG Competitions Commission
– Mr David Szlezak, Director of EHF Marketing
– Members of the Profesional Handball Board
– Forum Club Handball
– All clubs in the VELUX EHF Champions League
– VELUX Group
– Media