Rostov Don to meet Győr on tomorrow's big final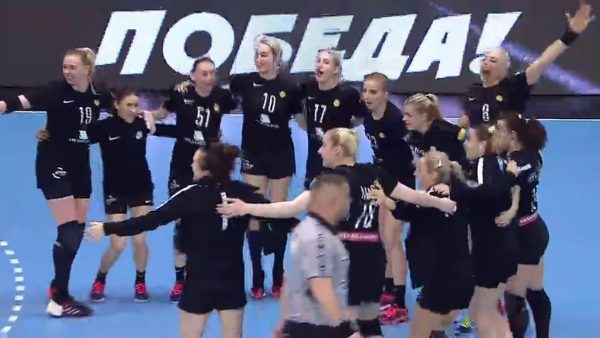 Rostov Don have qualified for tomorrow's final of the DELO Women's EHF Final 4 in Budapest, after a narrow victory over Metz Handball 25-27.
As expected, the second semifinal of this DELO Women's EHF Final 4 was the most exciting of the two matches. The Russian champions started off better, with an amazing Anna Sedoykina under the posts since the first minutes of the encounter.
Laura Flippes scored to shorten the gap to one after 7 minutes (3-4), but only two minute later, Emmanuel Mayonnade called for the first timeout of the match after two uncontested goals that put Rostov 3-6 ahead. The French coach called for a 5-1 defense with a personal mark on Anna Vyakhireva, but it didn't work so well as the lefthanded scored with an in-flight to set a 4-goal difference after 13 minutes (3-7).
Sedoykina continued to stop nearly everything that was thrown at her and helped her team finish the first half with a 7-goal difference (8-15), with an amazing save rate of 50: 9 saves out of 18 shots received. The only worry for Ambros Martin on the second period was the moment in which Anna Vyakhireva left the court in pain on her right ankle, but she would step back on court five minutes later.
On the second period, Metz showed their real face and played the way they had been playing in the entire competition, and slowly but surely, they started to shorten the gap. Meline Nocandy and Grace Zaadi took turns defending Vyakhireva and a 7-2 run put Metz as close as 16-18 after 10 minutes. The match was starting to get very exciting, but then came 10 minutes of misses, posts, ball loses, attacking fouls and desperation. Kseniya Makeeva saw the red card after 15' for a third 2' suspension and the game was already quite messy, but Rostov continued to be in the lead (18-20 at 18').
Zaadi was the main driving force for Metz now and her long-range shots or 1 against 1 situations were creating lots of trouble on the Russian defense, her efforts kept the French side in a 2-goal match. Manon Houette, who hadn't scored on the first half, was now nailing almost every shot.
With 2 minutes left to be played, Mayssa Pessoa, who had been on goal for the entire second half, stopped the shot by Zaadi to keep a 2 goal difference (24-26), and that seemed to be a defining point in the match, given the little time left on the clock. Polina Kuznetsova scored for 24-27 and Zaadi scored one last time for Metz (25-27). With a minute and a half left to play, Martin called for a last timeout and told his team to focus on that last minute, but Rostov lost the ball and the French ran the fast break, however, Flippes committed an attacking foul on Vyakhireva and Kuznetsova and the match was sentenced.
Rostov Don will play tomorrow's final against Győri Audi ETO KC, Martin's former team. Both the coach and the Hungarian side will be disputing their fourth final in a row. The final starts at 18:00 and the third place match between Metz Handball and Vipers Kristiansand will be at 15:15.