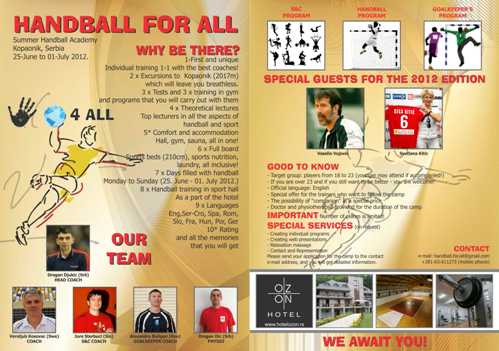 On the beautiful mountain, in the most popular touristic resort in Serbia, Kopaonik, between 4-.10 July 2011 will be organize second Summer Handball Academy – "Handball for All".  Eminent international coaching staff composed of the names of Dragan Djukić (Great Britain national team head coach), Veroljub Kosovac (former Skjern Denmark and Aragon Spain – head coach), Alexandru Buligan (Romanian goalkeeper coach specialist), Jure Šterbucl (S&C coach of Krim Mercator – Slovenia's TOP women's team) and Dragan Ilić (Physio) will working with players, who wants to develop their individual skills and handball performances in a week training program.
"Handball for all" participants will have an opportunity to meet some of the famous players (Veselin Vujovic – one of the best world's playEr everand Svetlana Ceca Kitic – Women's best player ever by IHF), to talk with them and become richer for a specific experience.
Program, accommodation, sports and other equipments in Kopaonik will be on the highest level, as you can see in special presentation of "Handball for All" – Summer Handball Academy, where you can find all the informations.
Visitors (players, coaches, etc) of Handball-Planet.com have a special offer – chance for 5% discount on the participation fee, if they show interest and apply for "Handball for All" on our e-mail Address – [email protected]/handball/
FACEBOOK PAGE – HANDBALL FOR ALL
[youtube]http://www.youtube.com/watch?v=EuifgybweNk[/youtube]