SEHA: Tatran Presov beat Zagreb and join F4!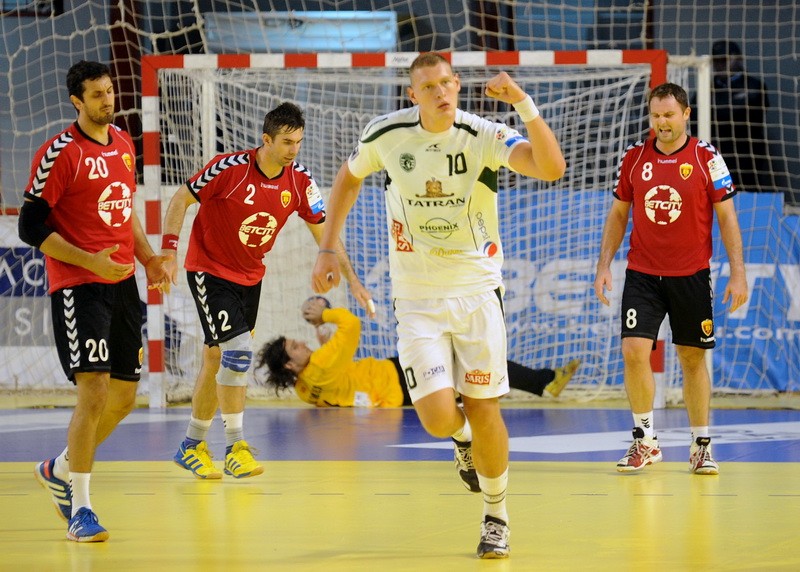 Slovakian champion HC Tatran Presov beat C.O Zagreb 31:28 (12:15) and almost secured SEHA GAZPROM SSL F4 which will be held in Novi Sad (April 11-13). In interesting finish decisive role had Latvian giant Dainis Kristopans who scored last two goals and pushed his team to F4. Slovakian team needs only one more pont to practically find the place in Novi Sad, but only in the case in other two teams, Vardar and Brest Meshkov won last three matches…
The first team at SEHA GAZPROM SSL is Croatian champion C.O Zagreb.
Other results:
Partizan – Metalurg 23:22
Nexe – Vardar 32:25
STANDINGS:
| | | | | | | | |
| --- | --- | --- | --- | --- | --- | --- | --- |
| 1. | CO Zagreb | 16 | 12 | 1 | 3 | 503 : 434 | 37 |
| 2. | Tatran Prešov | 15 | 12 | 0 | 3 | 517 : 418 | 36 |
| 3. | Vardar | 15 | 9 | 1 | 5 | 429 : 392 | 28 |
| 4. | Meshkov Brest | 14 | 9 | 0 | 5 | 377 : 352 | 27 |
| 5. | Metalurg | 15 | 7 | 4 | 4 | 388 : 361 | 25 |
| 6. | Vojvodina | 15 | 7 | 0 | 8 | 382 : 402 | 21 |
| 7. | Nexe | 15 | 5 | 2 | 8 | 420 : 428 | 17 |
| 8. | Borac m:tel | 14 | 4 | 0 | 10 | 328 : 420 | 12 |
| 9. | Lovćen | 16 | 3 | 2 | 11 | 413 : 479 | 11 |
| 10. | Partizan | 15 | 2 | 0 | 13 | 356 : 427 | 6 |