Germany
SG Flensburg beat THW Kiel in German derby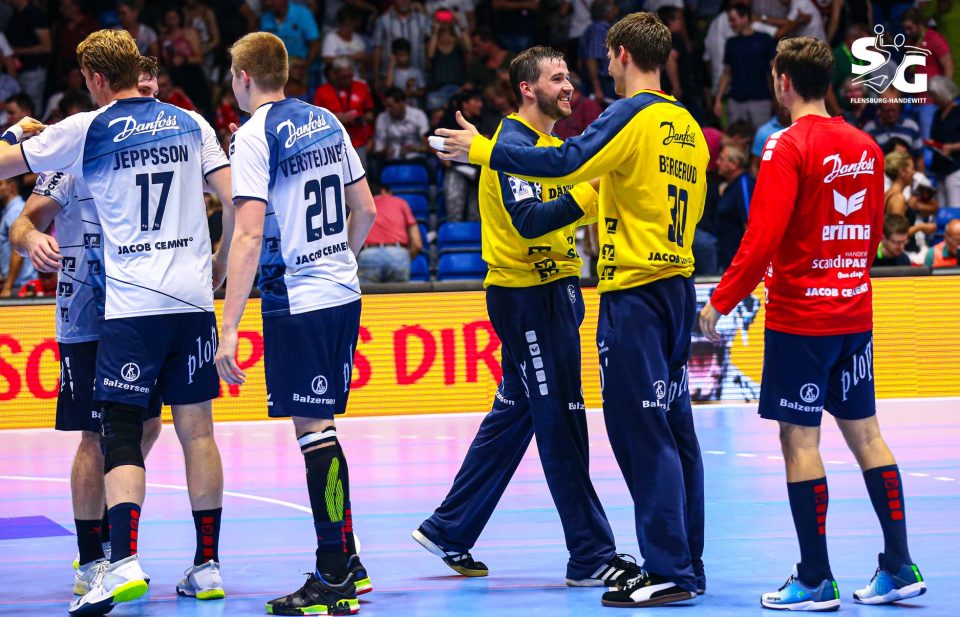 SG Flensburg beat THW Kiel 31:28 (17:15) to stay unbeatable in their FLENS Arena and come closer to the Bundesliga 2020/2021 trophy! Team of Maik Machulla had result over control with Swedish left wing Hampus Wanne and his compatriot Jim Gottfridsson in the main roles with 10 goals and seven goals.
The "Zebras" had a fresh blood in 43-years old Mattias Andersson who had a very good role on his come-back between the posts (8 saves), but that wasn't enough for a win against the club in which he ended professional career few years ago.
Flensburg-Handewitt : Hampus Wanne 10, Jim Gottfridsson 7, Johannes Golla 5, Goran Sogard 4, Alexander Peterssonn 2, Lasse Svan 2, Magnus Röd 1.
THW Kiel : Sander Sagosen 9, Domagoj Duvnjak 4, Niclas Ekberg 4, Patrick Wiencek 3, Harald Reinkind 2, Rune Dahmke 2, Hendrik Pekeler 2, Miha Zarabec 1, Steffen Weinhold 1.
Now, Flensburg are one point ahead of the biggest rival in the race for the title.
STANDING:
| | | | | | | | | |
| --- | --- | --- | --- | --- | --- | --- | --- | --- |
| 1. | Flensburg-H. | 19 | 16 | 2 | 1 | 580:495 | 34 | |
| 2. | Kiel | 19 | 16 | 1 | 2 | 603:493 | 33 | |
| 3. | SC Magdeburg | 21 | 15 | 2 | 4 | 637:545 | 32 | |
| 4. | Rhein-Neckar | 21 | 14 | 2 | 5 | 628:557 | 30 | |
| 5. | Goppingen | 21 | 13 | 3 | 5 | 591:561 | 29 | |
| 6. | Fuchse Berlin | 21 | 13 | 1 | 7 | 591:560 | 27 | |
| 7. | Bergischer | 21 | 11 | 3 | 7 | 603:558 | 25 | |
| 8. | Lemgo | 21 | 9 | 4 | 8 | 556:571 | 22 | |
| 9. | HSG Wetzlar | 22 | 9 | 4 | 9 | 618:594 | 22 | |
| 10. | Erlangen | 22 | 9 | 4 | 9 | 605:591 | 22 | |
| 11. | MT Melsungen | 18 | 10 | 1 | 7 | 507:489 | 21 | |
| 12. | Leipzig | 22 | 9 | 3 | 10 | 571:584 | 21 | |
| 13. | Stuttgart | 22 | 10 | 1 | 11 | 590:615 | 21 | |
| 14. | Hannover-Burgdorf | 22 | 7 | 4 | 11 | 601:608 | 18 | |
| 15. | Minden | 22 | 6 | 4 | 12 | 576:608 | 16 | |
| 16. | HBW Balingen-Weilstetten | 22 | 6 | 1 | 15 | 572:628 | 13 | |
| 17. | Nordhorn-Lingen | 21 | 4 | 2 | 15 | 534:625 | 10 | |
| 18. | Essen | 21 | 4 | 1 | 16 | 552:625 | 9 | |
| 19. | Ludwigshafen | 21 | 3 | 3 | 15 | 490:570 | 9 | |
| 20. | Coburg 2000 | 23 | 3 | 2 | 18 | 580:708 | 8 | |