Stal Mielec takes the point in Plock!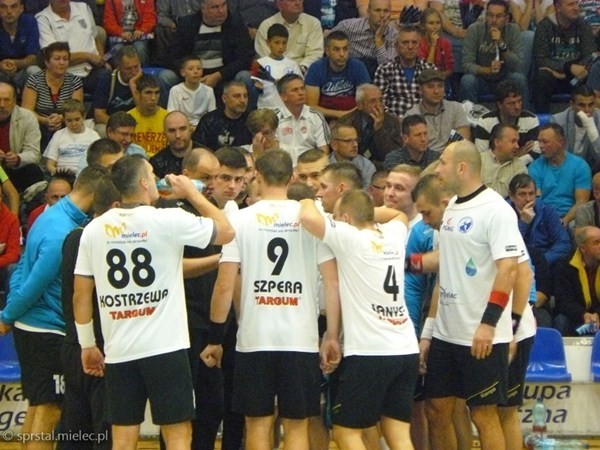 The news from the Polish Handball league is when some of two TOP teams, Vive Tauron Kielce and Orlen Wisla Plock struggling to beat weaker rivals. One of the teams who made surprise is SPR Stal Mielec by winning a point in Plock last night – 25:25. That was the fifth match of the vice-champions in this season. In the first four total goal difference was +42.
Orlen Wisła Płock – SPR Stal Mielec 25:25 (13:13)
Orlen Wisła: Corrales, Wichary – Zelenović 6, Tioumentsev 4, Daszek 3/1, Syprzak 3, Ghionea 2/2, Racotea 2, Rocha 2, Nikcević 1, Pusica 1, Wiśniewski 1, Kwiatkowski, Montoro.
SPR Stal: Nikolić – Adamuszek 6, Szpera 6, Janyst 4/1, Kostrzewa 3, Sobut 2, Wilk 2, Gliński 1, Krzysztofik 1, Chodara, Gudz.
STANDINGS:
1 Vive Tauron Kielce 5 5 0 0 176:128 10
2 Orlen Wisła Płock 5 4 1 0 172:130 9
3 Górnik Zabrze 4 4 0 0 121:106 8
4 SPR Stal Mielec 5 3 1 1 151:136 7
5 Gaz-System Pogoń Szczecin 4 3 0 1 130:116 6
6 Chrobry Głogów 4 2 0 2 104:98 4
7 MMTS Kwidzyn 5 1 0 4 137:156 2
8 Nielba Wągrowiec 4 1 0 3 97:123 2
9 Śląsk Wrocław 4 1 0 3 95:127 2
10 Zagłębie Lubin 4 0 1 3 112:125 1
11 Wybrzeże Gdańsk 4 0 1 3 103:126 1
12 KS Azoty Puławy 4 0 0 4 111:138 0