TATRAN Presov lost to SEHA League leaders Vardar Skopje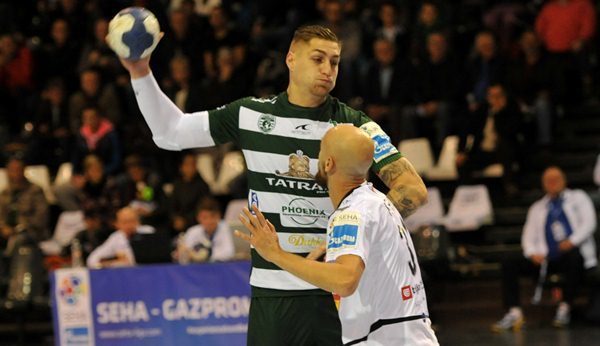 In the 12th round of SEHA Gazprom League TATRAN Presov lost to Vardar Skopje 29:35. After 7 games TATRAN are 9th in SEHA League incomplete table with 3 points for 1 win and 6 losses. Vardar strengthened their position of the SEHA League leaders. After 10 games they secured 28 points for 9 victories and 1 draw.
In the 1st half TATRAN managed to keep up with Vardar, who have only the highest ambitions in SEHA Gazprom League and Champions League this season. Slovakian champions even led by 2 goals in 17th minute of the match – 8:6. However, Macedonian champions came back and won the tied first half 17:15.
TATRAN did not manage the first minutes of the second half, when they went down by 7 goals after the series of unforced mistakes – 17:24. The Eastern Slovakian side fought back hard. In 43rd minute they reduced the score to 23:27. In 54th minute TATRAN were 28:32 down, when they managed to defend attacks of Macedonians three times in a row. However, they failed to convert their goal chances and make the end of the game more dramatic. Finally Vardar recorded a deserved 6 goal victory 35:29.
TATRAN was led by the right back Alexey Peskov and right wing Tomas Cip who both scored 6 goals. The left back of TATRAN Oliver Rabek added 5 goals. Vardar relied on their left wing Timur Dibirov with 8 goals and right back Jorge Maqueda with 7 goals. The centre back of Vardar Joan Canellas and left back Alexander Dereven added 4 goals.
Post-match statements
Rastislav Trtik, coach of TATRAN:
It was an interesting game for the spectators and handball experts in TATRAN Handball Arena. Both teams played in a good pace. It was a tough, but fair match. The fans could admire the skills of the players like Canellas, Dereven or Cindric. Vardar have a huge shooting power in the attack, which they proved on the court. Every mistake of our players was punished by Vardar on counter attacks. This is the biggest strength of Vardar. They play simple, but very efficient handball. It was a great experience for us to play Vardar. We are glad we managed to keep up with them and force them to play excellent game against our team. We are not naive. We know they did not play this game in full strength. Despite that I really appreciate the high level of the match.
Igor Chupryna, goalkeeper of TATRAN:
Congratulations to Vardar on their deserved victory. We wanted to show our fans and Vardar nice handball. We played an excellent game in the first half. But the start of the second one was not good for us and Vardar managed to extend their lead. Finally they controlled the game until the end. We have a lot of games before us, so we have to prepare thoroughly.
Oliver Rabek, left back of TATRAN:
We played a good game in the first half. We managed to keep up with Vardar. In the beginning of the second one we made several mistakes. Vardar extended their lead to 5 goals. Then it is impossible to equalize the game against the team like Vardar. In my opinion they will reach Final Four of the Champions League this season.
Raul Gonzales, coach of Vardar:
Congratulations to TATRAN because they played really good game. It was a tough game for us. We knew that last year we had big problems here in Presov. We prepared for the game very well. We started the match with 1-5 defence. Our goalkeeper was perfect in the first half and had a lot of important saves. We were also successful on counter attacks, so we led by 2 goals after first half. In the second half we played better. We are very happy because we managed to win this difficult game.
Joan Canellas, centre back of Vardar:
In the first half we made a lot of mistakes. TATRAN played better. In the second half we managed to control the game. After five minutes we extended our lead to 5 goal difference. We deserved the victory. We did not play perfect, but we played good. We are happy because if we want to be in SEHA Final Four we have to win such games. At the moment everything is fine in SEHA League since we lead the table. We need to continue to deliver good performances.
Rogerio Ferreira Moraes, line player of Vardar:
Today it was a very good match. I think it was very difficult to play against TATRAN. It is very important that we were able to take 3 points. In the first half we did not play well and TATRAN were excellent. In the second half we managed to get the match under control.
SEHA Gazprom League – 12th Round – Saturday 29 October 2016, TATRAN Handball Arena
TATRAN Presov (SVK) – Vardar Skopje (MAC) 29:35 (15:17)
TATRAN: Chupryna, Brazhnyk 1 – Rabek 5, M. Sarpataky, Humenansky, Hrstka 3, D. Krok 2, Sadovyi, L. Urban 3, Cip 6, Pekar, Peskov 6, Vucko 1, Jankovic, Pales 1, Tsarapkin 1. Coach: R. Trtik
Vardar: Angelov, Gjorgjeski, Milic – Popovski 1, Moraes 2, Maqueda 7, Dereven 4, Karacic 3, Abutovic, Canellas 4, Dimitrovski, Cindric 2, Cupic 3, Dibirov 8, Vujacic 1, Marsenic. Coach: Raul Gonzales
Referees: Gubica, Miloševič (CRO), 7m given/goals: 1/1 – 4/3, 2´ penalties: 4 – 3, Spect. 2100
Author: Richard Fech
Photo: Viktor Zamborsky