THW Kiel win EHF Cup for the 4th time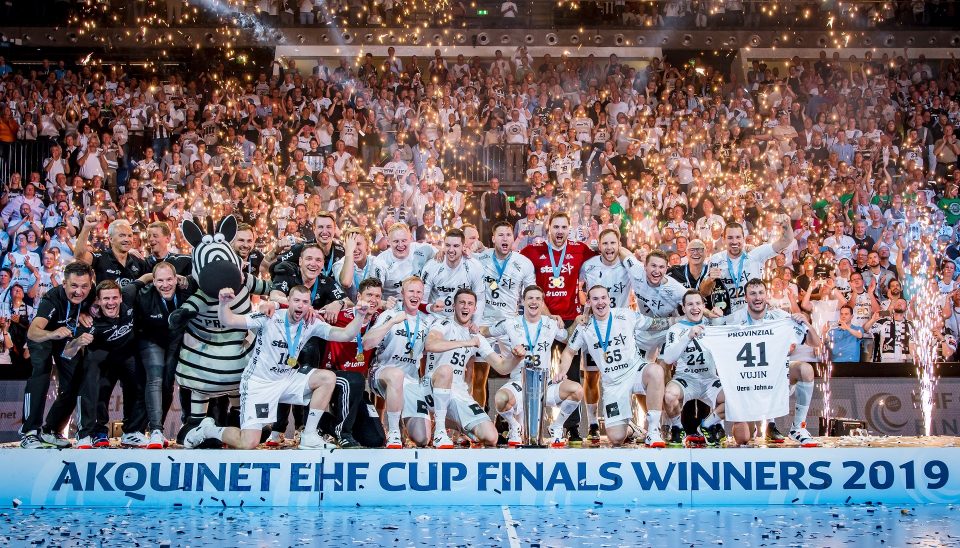 THW Kiel celebrate the fourth trophy in EHF Cup. The "Zebras" have won "German final" against Fuchse Berlin 26:22 (16:10) in front of home fans in sold out "Sparkassen Arena" in Kiel.
The third place won FC Porto Sofarma by beating TT Holstebro 28:26.
THW KIEL – FÜCHSE BERLIN: 26:22 (16:10)
THW Kiel: N. Landin (1.-42., 8/1 saves), Wolff (42.-60., 5/1 saves); Duvnjak (3), Reinkind (1), M. Landin (4), Firnhaber, Weinhold (5), Wiencek, Ekberg (7/3), Rahmel, Dahmke, Zarabec (1), Bilyk (1), Pekeler (2), Nilsson (2);
Füchse Berlin: Heinevetter (1.-16., 28.-60., 9 saves), Semisch (16.-28., 1 save); Wiede (2), Elisson (6/1), Holm (1), Struck, Mandalinic (1/1), Gojun, Lindberg (3), Zachrisson (3), Schmidt, Reißky, Koch, Marsenic (3), Drux (3);
PHOTO: THW Kiel Facebook