TOP 50 EHF CL SCORERS: Uwe Gensheimer leads race despite two matches absence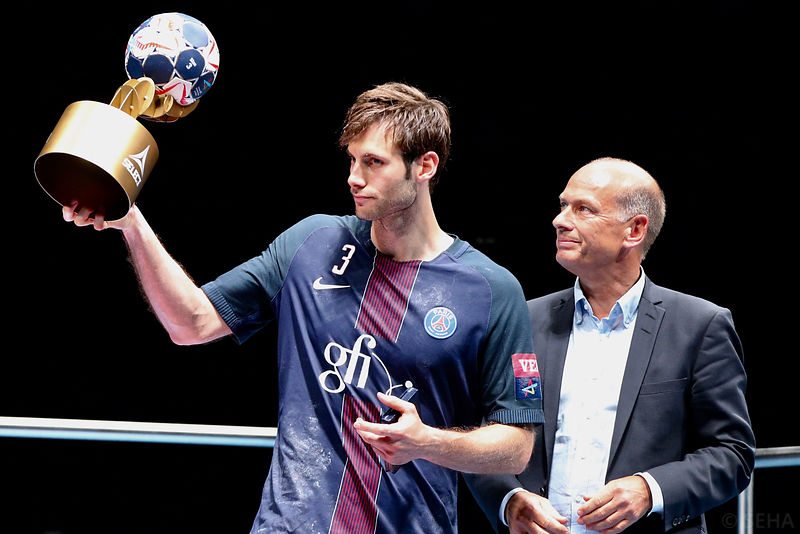 Uwe Gensheimer is leading scorer of the VELUX EHF Champions League 2017/2018 after Preliminary Round. The 31-years old PSG Handball left wing netted 80 goals, five more than his first follower Andre Schmid from Rhein Neckar Lowen, but with an important fact that Gensheimer missed last two matches of the competition against Meshkov Brest and THW Kiel.
As PSG Handball member, Gensheimer will miss two more matches as French champions already qualified for the quarter-finals of the European elite competition as group winners.
TOP 50 – goalscorers Men's EHF CL 2017/2018:
Gensheimer Uwe (GER) 80 Paris Saint-Germain Handball (FRA)
Schmid Andre (SUI) 75 Rhein-Neckar Löwen (GER)
Lekai Mate (HUN) 72 Telekom Veszprém HC (HUN)
Olsson Markus (SWE) 71 Skjern Handbold (DEN)
Ilic Momir (SRB) 66 Telekom Veszprém HC (HUN)
Mem Dika (FRA) 66 FC Barcelona Lassa (ESP)
Dibirov Timur (RUS) 61 HC Vardar (MKD)
Lagergren Albin (SWE) 61 IFK Kristianstad (SWE)
Juul-Lassen Buster Engelbrecht (DEN) 60 Aalborg Handbold (DEN)
Djordjic Petar (SRB) 59 HC Meshkov Brest (BLR)
Glandorf Holger (GER) 59 SG Flensburg-Handewitt (GER)
Rivera Folch Valero (ESP) 59 FC Barcelona Lassa (ESP)
Malasinskas Aidenas (LTU) 58 HC Motor Zaporozhye (UKR)
Myrhol Bjarte Hakon (NOR) 58 Skjern Handbold (DEN)
Balogh Zsolt (HUN) 57 MOL-Pick Szeged (HUN)
Borozan Vuko (MNE) 57 HC Vardar (MKD)
Döne Ramazan (TUR) 57 Besiktas Mogaz HT (TUR)
Dujshebaev Dovichebaeva Alex (ESP) 57 PGE Vive Kielce (POL)
Gurbindo Martinez Eduardo (ESP) 57 HBC Nantes (FRA)
Karabatic Nikola (FRA) 57 Paris Saint-Germain Handball (FRA)
Sörensen Tim D. (DEN) 57 IFK Kristianstad (SWE)
Vrazalic Faruk (BIH) 56 Besiktas Mogaz HT (TUR)
Jurecki Michal (POL) 55 PGE Vive Kielce (POL)
Sagosen Sander (NOR) 55 Paris Saint-Germain Handball (FRA)
Santalov Dmitrii (RUS) 55 Chekhovskie Medvedi (RUS)
Wanne Hampus (SWE) 55 SG Flensburg-Handewitt (GER)
Balaguer Romeu David (ESP) 54 HBC Nantes (FRA)
Duarte Gilberto (POR) 54 Orlen Wisla Plock (POL)
Horvat Zlatko (CRO) 54 HC Prvo plinarsko drustvo Zagreb (CRO)
Bielecki Karol (POL) 53 PGE Vive Kielce (POL)
Ekberg Niclas (SWE) 53 THW Kiel (GER)
Lauge Schmidt Rasmus (DEN) 53 SG Flensburg-Handewitt (GER)
Lindboe Andre (NOR) 53 Elverum Handball (NOR)
Pukhouski Barys (BLR) 53 HC Motor Zaporozhye (UKR)
Jaganjac Halil (CRO) 52 HC Metalurg (MKD)
Remili Nedim (FRA) 52 Paris Saint-Germain Handball (FRA)
Mlakar Ziga (SLO) 51 RK Celje Pivovarna Lasko (SLO)
Gudmundsson Olafur Andres (ISL) 50 IFK Kristianstad (SWE)
Holst Jensen Andreas Holst (DEN) 50 Aalborg Handbold (DEN)
Rasmussen Rene Toft Brølling (DEN) 50 Skjern Handbold (DEN)
Søndergaard Sarup Kasper (DEN) 50 Skjern Handbold (DEN)
Tournat Nicolas (FRA) 50 HBC Nantes (FRA)
Mandalinic Stipe (CRO) 49 HC Prvo plinarsko drustvo Zagreb (CRO)
Eggert Magnussen Anders (DEN) 48 Skjern Handbold (DEN)
Marguc Gal (SLO) 48 RK Celje Pivovarna Lasko (SLO)
Stojkovic Rastko (SRB) 48 HC Meshkov Brest (BLR)
Svan Lasse (DEN) 48 SG Flensburg-Handewitt (GER)
Vujin Marko (SRB) 48 THW Kiel (GER)
Wiencek Patrick (GER) 48 THW Kiel (GER)
Kozakevych Artem (UKR) 47 HC Motor Zaporozhye (UKR)