EHF
U18 EHF EURO 2022: Spain and Portugal going for another medal battle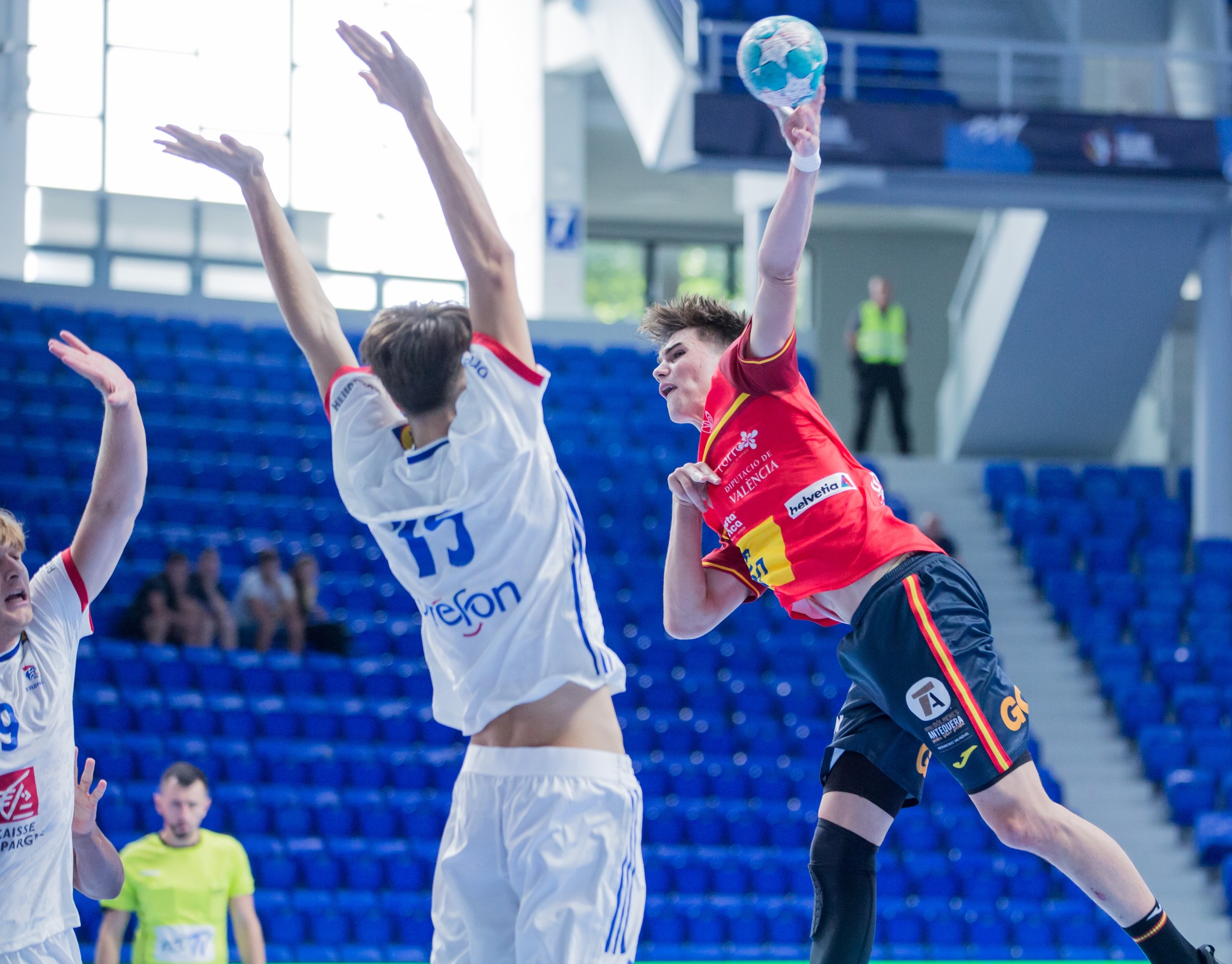 The Preliminary phase at U18 EHF EURO 2022 in Montenegro is over. The biggest dissapointment is  team  of France who lost all three matches, the last one against Faroe Islands 29:26.
Norway, Spain, Portugal and Hungary will start Main Round with two points.
Spain and Portugal are on the way to repeat success of their older compatriots who played at the final of the U20 Championship three weeks ago.
Main Round:
1. Hungary U18 1 1 0 0 35:32 2
2. Portugal U18 1 1 0 0 25:24 2
3. Croatia U18 1 0 0 1 24:25 0
4. Germany U18 1 0 0 1 32:35 0
# GROUP B MP W D L G PTS FORM
1. Spain U18 1 1 0 0 40:33 2
2. Norway U18 1 1 0 0 32:31 2
3. Denmark U18 1 0 0 1 31:32 0
4. Sweden U18 1 0 0 1 33:40 0
Preliminary Round:
| # | GROUP A | MP | W | D | L | G | PTS | |
| --- | --- | --- | --- | --- | --- | --- | --- | --- |
| 1. | Hungary U18 | 3 | 3 | 0 | 0 | 99:87 | 6 | |
| 2. | Germany U18 | 3 | 2 | 0 | 1 | 100:95 | 4 | |
| 3. | Iceland U18 | 3 | 1 | 0 | 2 | 92:90 | 2 | |
| 4. | Poland U18 | 3 | 0 | 0 | 3 | 86:105 | 0 | |
| # | GROUP B | MP | W | D | L | G | PTS | |
| 1. | Portugal U18 | 3 | 3 | 0 | 0 | 94:66 | 6 | |
| 2. | Croatia U18 | 3 | 2 | 0 | 1 | 105:77 | 4 | |
| 3. | Montenegro U18 | 3 | 1 | 0 | 2 | 76:99 | 2 | |
| 4. | Italy U18 | 3 | 0 | 0 | 3 | 71:104 | 0 | |
| # | GROUP C | MP | W | D | L | G | PTS | |
| 1. | Norway U18 | 3 | 3 | 0 | 0 | 98:89 | 6 | |
| 2. | Denmark U18 | 3 | 1 | 1 | 1 | 92:86 | 3 | |
| 3. | Serbia U18 | 3 | 1 | 1 | 1 | 83:85 | 3 | |
| 4. | Slovenia U18 | 3 | 0 | 0 | 3 | 84:97 | 0 | |
| # | GROUP D | MP | W | D | L | G | PTS | |
| 1. | Spain U18 | 3 | 3 | 0 | 0 | 116:91 | 6 | |
| 2. | Sweden U18 | 3 | 2 | 0 | 1 | 99:100 | 4 | |
| 3. | Faroe Islands U18 | 3 | 1 | 0 | 2 | 83:93 | 2 | |
| 4. | France U18 | 3 | 0 | 0 | 3 | 90:104 | 0 | |
PHOTO: Home of Handball