Veszprem defeated in Szeged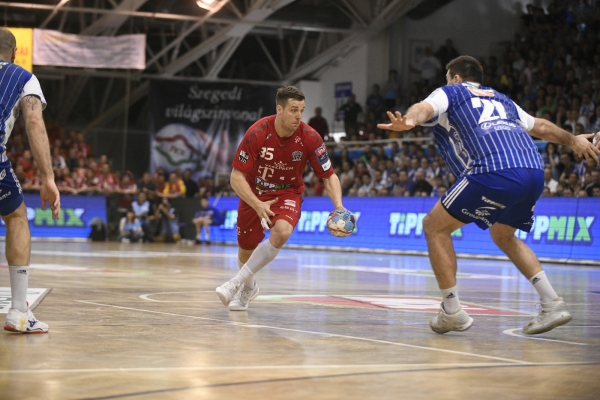 MOL Pick Szeged are still at the TOP of the Hungarian handball. After long winning run, Telekom Veszprem suffered defeat in Szeged against the biggest rivals on home soil – 25:23 (10:10), who are now definitely far away before the end of regular season.
Szeged's right wing Mario Sostaric was TOP scorer with six goals.
MOL-Pick Szeged – Telekom Veszprém 25:23 (10:10)
MOL-Pick Szeged: Alilovic, Sego, Marczika – Maqueda 1, Kallman 2, Bodó, Sigurmannsson 3 (1), Canellas 1, Sunajko, Balogh 2, Blazevic, Gaber 1, Sostaric 6, Bánhidi 3, Bombac 2, Zhitnikov 4
Telekom Veszprém: Mikler – Manaskov 5 (1), Ilic 5, Tonnesen, Gajic 3, Nilsson 2, Nagy 3, Terzic, Blagotinsek, Nenadic, Mahé 3 (1), Mackovsek, Lékai 2
STANDING:
| | | | | | | | | |
| --- | --- | --- | --- | --- | --- | --- | --- | --- |
| 1. | Szeged | 22 | 21 | 1 | 0 | 764:553 | 43 | |
| 2. | Telekom Veszprem | 19 | 16 | 0 | 3 | 650:459 | 32 | |
| 3. | Tatabanya | 18 | 14 | 2 | 2 | 503:436 | 30 | |
| 4. | Csurgoi | 19 | 11 | 3 | 5 | 525:488 | 25 | |
| 5. | Balatonfuredi | 19 | 12 | 0 | 7 | 511:480 | 24 | |
| 6. | Gyongyosi | 20 | 10 | 2 | 8 | 525:527 | 22 | |
| 7. | Dabas | 20 | 7 | 3 | 10 | 520:539 | 17 | |
| 8. | Komloi | 18 | 8 | 1 | 9 | 472:508 | 17 | |
| 9. | Ferencvaros | 19 | 8 | 0 | 11 | 491:489 | 16 | |
| 10. | Eger | 19 | 5 | 2 | 12 | 512:585 | 12 | |
| 11. | Cegledi | 19 | 5 | 1 | 13 | 458:548 | 11 | |
| 12. | Mezokovesdi | 20 | 4 | 3 | 13 | 478:566 | 11 | |
| 13. | Budakalasz | 19 | 3 | 4 | 12 | 460:535 | 10 | |
| 14. | Vecses | 19 | 0 | 0 | 19 | 422:578 | 0 | |