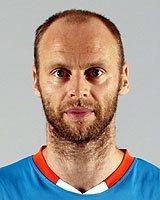 Ulrik Wilbek knows who big handball person is Olaffur Stefansson (39). Since he stayed out of the contract with AG Copenhagen, fantastic Icelander has received an offer from the Danish head-coach, who will have a new function in DAnish Handball Federation – Sports manager from October 1. He will help U19 Danish NT.
– – I had a meeting with Olafur Stefansson, and the first step in our little cooperation is that he must help our u19 team with coach Claus Hansen during 44 weeks – says Ulrik Wilbek to DHF's website.
Wilbek has strong faith in capabilites of fantastic right back:
– Olafur must come up with all the ideas he has. When I chose him is because he is in my opinion, is the world's smartest handball player and one of the best – says Wilbek.