Handball-Planet TEAM will try to give you a good warm-up before the upcoming Women's World's Championship 2013 in Serbia as for the other big handball events which have been played in the last few years.
NORWAY – FAVORITE NO.1
The golden way of Norwegian handball could be extended in Belgrade's "Kombank Arena". Thorir Hergeirsson's girls are defending champions from Brasil 2011. They know how to play big matches and certainly, they are ready to give revenge to Montenegrian girls, who will be under bigger pressure than before fantastic EHF EURO 2012 at the same place last December.
HOST TEAM WANT A MEDAL
Serbian head-coach Sasa Boskovic proclaimed the goal for the WWCH 2013 on home soil – GOLD. Ambitions of the Serbian girls are based on fourth place at the EHF EURO 2012 last year and two thrillers in which they were defeated in semi-finals against Montenergo and bronze battle match with Hungary. It's more realistic to see them in the semi-finals and maybe even in the final as we know that Montenegro and Norway will meet in the semis if they win their Preliminary Groups…
MONTENEGRO – BACK TO THE GOLDEN CITY OF BELGRADE
Dragan Adzic's girls have won silver at Olympic Games in London and Gold at EHF EURO 2012 in Belgrade in the last 16 months. It's normally that Bulatovic, Radicevic and other world class girls want to win "all" in Serbian again. On the way to the final, they could be stopped from only one team – Norway.
FRANCE
Two times WCh finalist have a much better results than at EHF EURO events. Why, it is still unknown, but there is no doubt that new head-coach Alain Portes brought some new energy after Krumbholz's time and huge dissapoitment in 2012, when the French girls missed semi-finals in London and Belgrade. In "projected" 1/4 final with Hungary, Pineau and other girls are small favorites…
HUNGARY
Hungarian team is the first favorite to win the Group in Novi Sad, where they will have the biggest support in the hall. Tomori and Gorbicz are leading one experienced generation who break all the barriers last year with bronze medal at EHF EURO 2012. They are ready to repeat that success and find their place among TOP 4. Some projection speaking about possible clash with France at 1/4 Final. Of course, if everything goes according "plans"…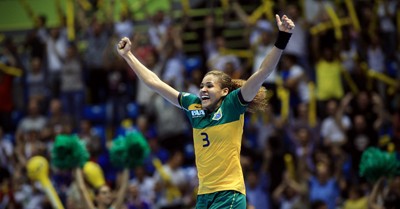 BRASIL, ROMANIA, SPAIN, NETHERLANDS, DENMARK, GERMANY…
These teams are strong enough to secure their place among TOP 8, but it will be interesting to see, are they capable to make a step higher.  Brasil as the new "handball force" will meet Serbia at the Preliminary Group and that match in the "hot" "Čair" hall in Nis in front of 5.000 could be decisive for the rest of the competition.
KOREA, ANGOLA, CZECH REPUBLIC, POLAND…
They are "seen" to be eliminated at the first knock-out stage after the Preliminary Group matches.
TOTAL OUTSIDERS (AUSTRALIA, PARAGUAY AND DOMINICAN REPUBLIC)
In the group of teams who will act the "flower" in the world's handball garden are Australia, Paraguay and Dominican Republic…
At the end, Handball-Planet.com will try to give a prediction:
1. Norway
2. Serbia
3. Montenegro
4. France
5 -8.
Hungary, Brasil, Spain and Romania
9.-16.
Denmark, Netherlands, Germany, Korea, Poland, Angola and Czech Republic