Youngster Blomstrand drives Sweden to Hamburg!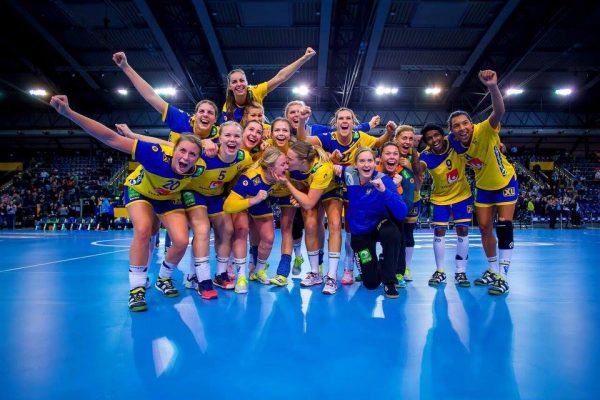 Photo credit: Germany 2017 / IHF
Sweden continues to make history in German soil. After having qualified for the quarter-finals for the first time ever in a World Championship, they defeated Denmark 26-23 and are now among the best four teams of the competition. The Swedish will be in Hamburg on the final weekend. Hanna Blomstrand was MVP of the match scoring all 7 shots from 7 attempts.
On the Scandinavian derby, Denmark started off better. Team captain Stine Jørgensen, Line Haugsted and Mette Tranborg were scoring from outside the 9 meters and Sandra Toft's interventions were vital to give the coached by Klavs Brun Jørgensen a three goal advantage after 11' (2-5). But the Swedish worked with patience and slowly but steadily started to chase after the Danish. At the end of the first period the lead had changed hands and saw Sweden 13-11 ahead. A big part of the responsibility for this comeback was the entrance of Filippa Idéhn for Johanna Bundsen on the Swedish goal.
From the beginning of the second half, the coached by Henrik Signell imposed their rythm and after 9 minutes, the score was 18-13. A great performance from Hanna Blomstrand was key for the victory as her 7 goals from 7 attempts came exactly when Sweden needed them. With 4 minutes left to be played, Denmark got dangerously close (23-21); Blomstrand extended the gap to three again, and Tranborg responde. But a nice move on the right from Bella Gulldén set the three goal difference again only a minute before the final whistle. Olivia Mellegard put the last goal of the match with seconds to go and the celebrations started for the Swedish. Denmark's Tranborg and Blomstrand were top scorers for the match with 7 goals each, while the Swedish was named MVP of the encounter.
21-year-old Blomstrand couldn't hide her smile after the match and couldn't quite express her feelings: "It's was a dream to make it into the semifinal in the World Championship. It's an undescribable feeling, I'm so happy for the team, and for myself. It was such a win!". When naming the reasons behind the victory, Blomstrand explained: "First of all I think it's the team spirit, it's so important in handball that we work together in defense and in offense, and I think we made it this time; both in defense and our goalies in the second half, and also on the middle of the first half, when we caught up, so then we could go into offense with a calmness and that's important".
-Thorir Hergeirsson said after the match against you that yours was a team that could reach the semi-finals, did you also believe in that?
-It's a dream to go into the semifinals. We know that there are so many good teams that we're going to meet, but we also know our abilities, and that if we showed what we showed against Norway, and today most of the times, then we knew it was possible, but we had to be spot on on everything.
-Is the gold medal possible for you?
-Everything is possible, I like to say that. And when we play like this, when we play at our highest I think we have a good possibility. But just now there are so many good teams, so we'll see, but we know now that everything is possible and we'll just have to go with that and see how far that'll go!
And from one youngster to possibly one of the World's best backs, Bella Gulldén, the pouring of emotions continued on the mixed zone: "I feel great! It was really nice (to win). I've been waiting for this for a long, long time, and you never know when the chance will come again, so I will just enjoy this day. In the beginning we struggled a little bit, but then we had some saves and we could run and then Hanna Blomstrand comes in and she scored everytime so it was great".
Henrik Signell confirmed that this is his biggest achievement in his coaching career, but he does not settle for that: "So far it is (his biggest achievement), but I don't think we are finished with this, I hope so. We believe in what we do and everybody wants the same thing. The moral on the team is fantastic, you could see it today, we were down three goals, I think, but we saidn 'no worries', we continued to do the same things that we had talked about before the game. I'm so proud".
Sweden will now face France in Hamburg on the Firday 15th.