Yuliya Dumanska is Young World Female Handball Player 2017/2018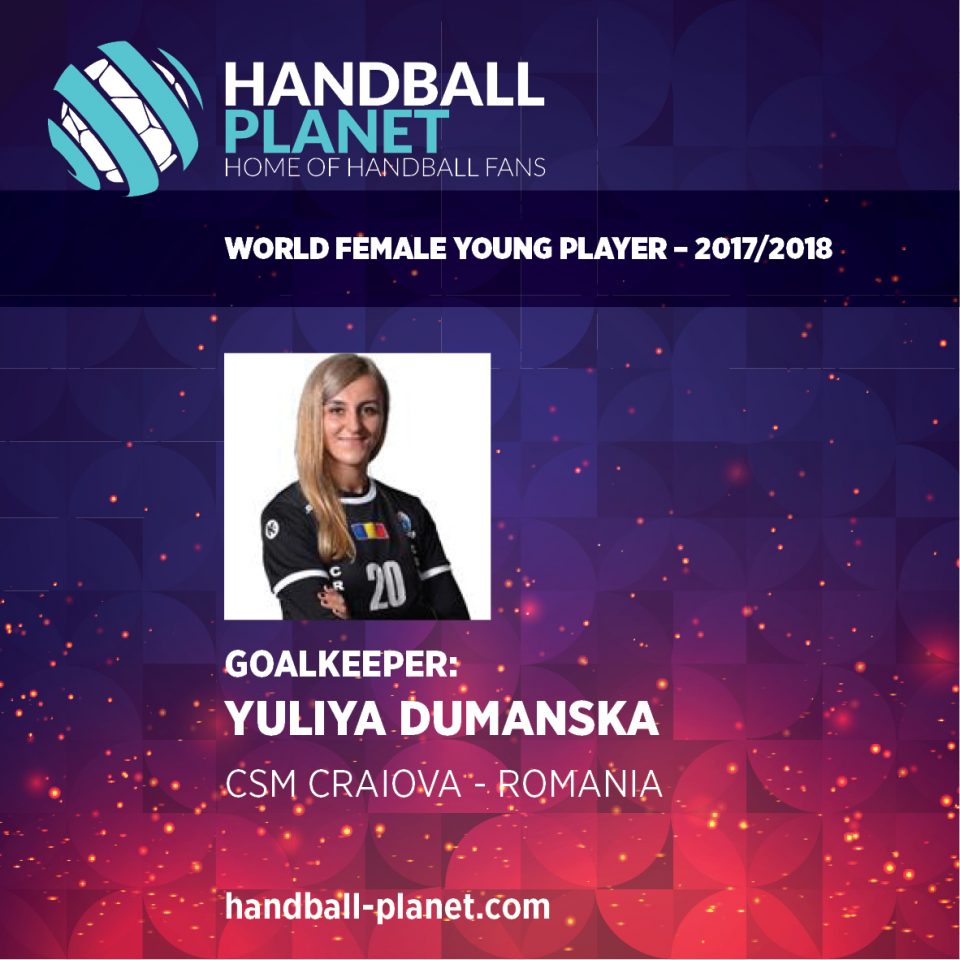 Handball-Planet.com is pleased to announce the results of our fifth Voting Contest for the Young World Female Handball Player 2017/2018 (generation 1996 and younger). The Romanian youngstar, promising goalkeeper, Yulia Dumanska (1996) got the highest number of cumulative votes of handball journalists and handball fans (Handball-Planet.com visitors). Oustanding performances of the 22 years-old Dumanska, helped his team SCM Craiova to win the Women's EHF Cup 2017/2018, but also her to get an award for the best goalkeeper of Romanian league.
Dumanska won the award with 20 points, ahead of two Montenegrian girls, left back Djurdjina Jaukovic (18) and line-player Tatjana Brnovic (17).
In two weeks of voting period 20.257 votes for 28 nominated players have shown the outstanding interest for our project, who has the goal to present the future stars of our sport.

COMPLETE RESULTS – BEST 7
Members of the Jury:

Laura Agena (Argentina, HP Team)
Zika Bogdanovic (Serbia, Balkan-Handball.com)
Lojze Grčman (Atletia.si, Slovenia)
Stig Nygard (TV 2, Norway)
Sergei Novikov (Fast Center, Belarus)
Sergey Prigolovkin (Rushandball.ru, Russia)
Ibolya Szekeres (Time Out Magazine, Hungary-Norway)
BURGAARD, DMITRIEVA AND VYAKHIREVA
Handball-Planet.com looking for the fourth best player on the Earth in the history of our Contest. Danish right back Louise Burgaard (2013/2014) won title two years ago, while in 2015, Russian playmaker Daria Dmitrieva was the BEST ahead of her compatriot Anna Vyakhireva in 2016 and 2017.
12 NATIONS
Nominations by countries: Montenegro (5), Denmark and Slovenia (4), Hungary (3), Sweden, Russia, Norway and Czech Republic (2), Macedonia, Germany, Austria and Romania (1).