Indoor season in Europe is in full rhythm but day by day there are more news about "young summer brother" – Beach Handball. This summer will be very important and full of interesting events in national teams' and clubs' competition.
"High season" will be dedicate to European championship U16  that will be held in Nazare, Portugal (July 8 -10) and IHF World championship in Budapest, Hungary (July 12 – 17).
Club season will start with Euro Beach Finals in Greece in May (20-22.5.) and finish in November  with EHF BH Champions cup (Canarian islands).
Today, in Vienna was organised draw for youth ECh, competition that will be first step of qualification process for teams that will secure participation on Youth Olympic Games 2018 in Buenos Aires, great event where Beach Handball will enter on the bigest global sport stage, so far.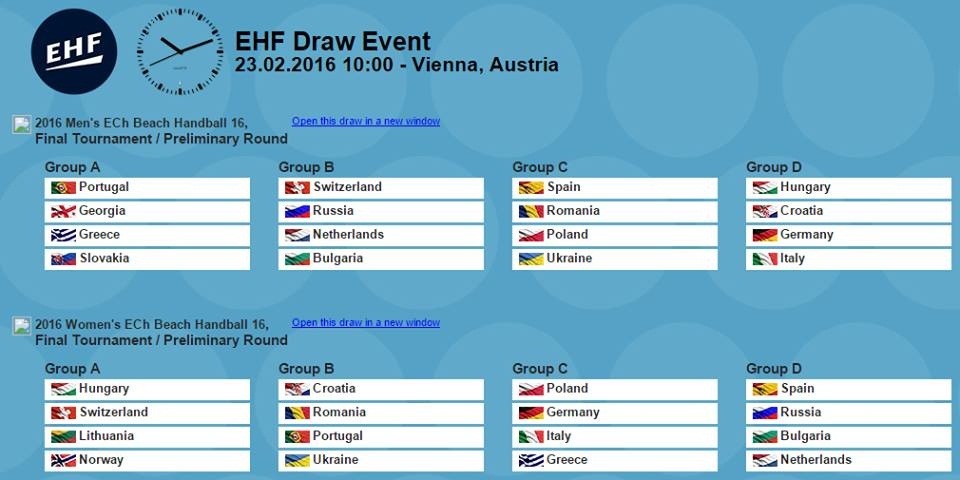 16 teams in each gender will participate on ECh in Portugal, divided in four groups of four teams. After preliminary phase (round robin), two best teams will qualify for "knock out" stage that will bring teams to competition for the medals.
Beach Handball community will be much reacher from this season with some new participating "beach nations" and some that comeback to the "stage" as Lithuania, Georgia and Romania.