The Latest
BIG FISH IN PFADI: Viran Morros joins Winterthur!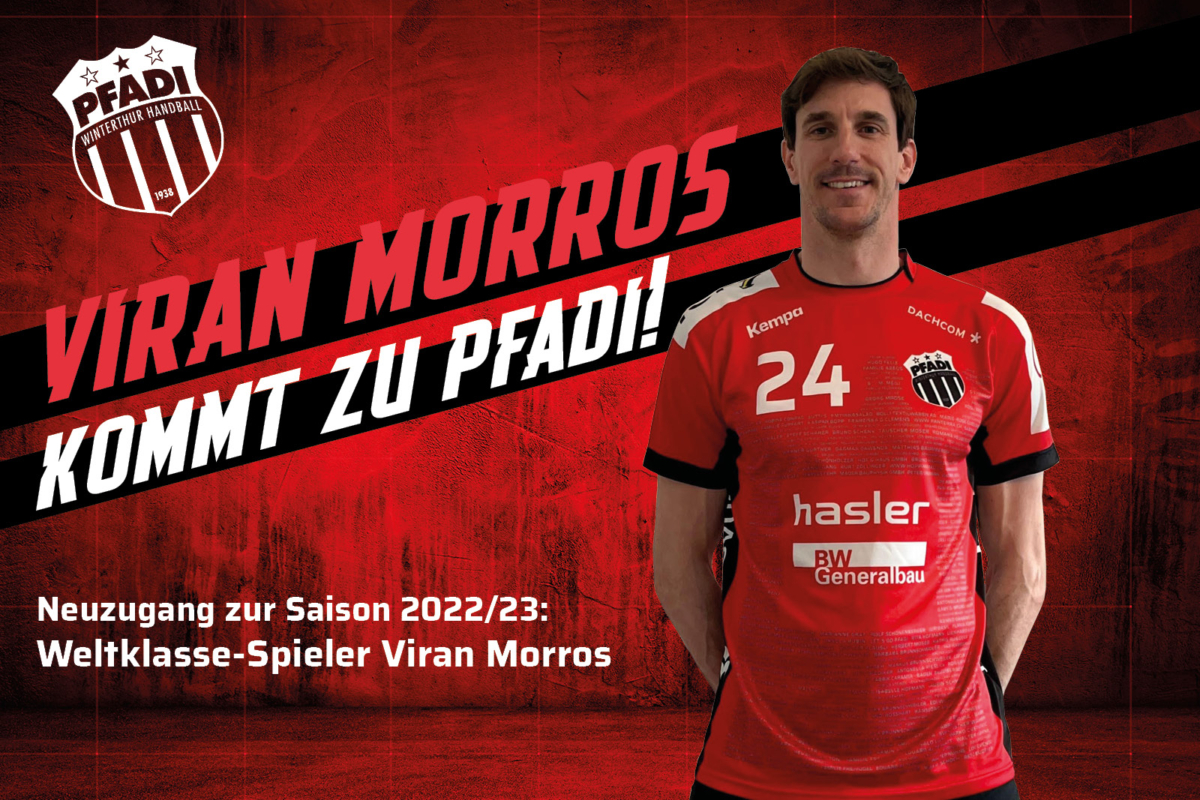 Legendary Spanish national player and 47-times title holder Viran Morros, will join Pfadi Winterthur in the upcoming season.
The reigning Swiss champions who are qualified for Play Off 2022 semi-final after win in TOP 8 series against St. Gallen 3:2, caught a big fish in the name of defensive specialist with impressive CV.
Among other things, the 199 cm tall right-hander celebrated 14 championship titles in Spain and France as well as three successes in the Champions League with BM Ciudad Real and FC Barcelona. As a leading player, he always played a key role in the best teams in the world – including eleven years at FC Barcelona (2000-2003 and 2011-2018), four at BM Ciudad Real (2007-2011), three at Paris Saint-Germain (2018 – 2021) and until the end of the current season at the Füchse Berlin.
As a 252-time Spanish national player, Morros has been European champion twice (2018 and 2020), won silver once at the European Championships (2016) and bronze once at the European Championships (2014), became world champion once (2013), won bronze twice at the World Cup (2011 and 2021) and bronze at the Tokyo 2020 Olympic Games.
Viran Morros is happy about his future commitment to Pfadi Winterthur: «I was impressed by how much Winterthur tried to look after me. In the discussions, I felt that this challenge appealed to me. The respect shown to me and the interest in my person honor me. Ultimately, that was the decisive factor in me joining the traditional club. It will be a new challenge and a whole new experience for me. I am convinced that it is the next right decision for me in my career. Handball in Switzerland takes another big step in development this summer with the numerous top transfers. I'm excited to be part of the club and team and get started."
President Jürg Hofmann has the following to say about the importance of Viran Morros moving to Pfadi Winterthur Handball:
"We are delighted that Viran Morros has decided to join Scout Winterthur and that we can welcome him to our club in the summer. With him we hire a leader and thus improve the management structure of our team as desired. He will help us enormously with his mentality and sporting quality. The whole team and in particular our young talents, who will also be integrated into the team for the coming season, can benefit enormously from him."
Winterthur's head coach Goran Cvetkovic is looking forward to future cooperation with the world star, who will be a great asset to the team and the club, both in terms of sport and personality:
"With the signing of Viran Morros, we have primarily succeeded in achieving an important strategic goal . Namely, to comprehensively design the composition and development of the team. This is of inestimable value, especially for our young hopes, which we constantly integrate into our squad. In addition to the infrastructure, professional training and the coaching staff, a team needs role models and players who not only have the sporting quality, but also enormous experience. His impressive career goes without saying. We look forward to working with him and to his commitment and motivation to strive for success with and for Scout.»