Brazil gets its third Pan American title!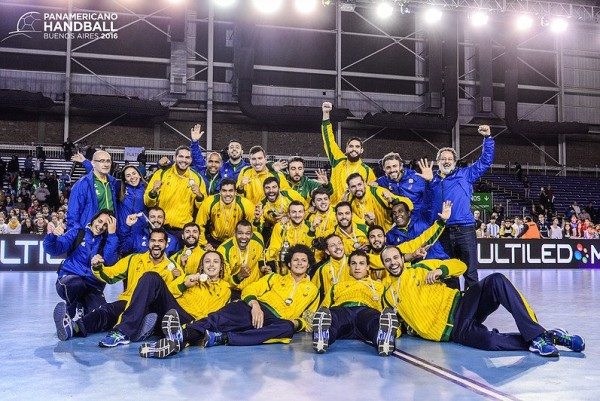 Photo: PATHF
Brazil is all smiles again. After eight years, the Verdeamarela has been crowned as champion of America after beating Chile by 28-24. The conducted by Mateo Garralda have won their first ever silver medal and will be in France 2017. Argentina's bittersweet bronze will also take them to the World Championship next January.
Laughs and tears are all over the place. The Chilean players are lying on the floor, hands in their heads; while the Brazilian dance and jump around in joy. They run towards one of the tribunes, where a group of Brazilian fans are singing and dancing, they take selfies with them. "É campeão! É campeão!", they sing. Eight years have passed since that last Pan American title for them, tears are allowed.
In an intense final, the conducted by Jordi Ribera defeated Chile taking advantage, mostly, of their fitness. Brazil displayed a powerful attack with strong 9-meter shooters and a good work from line player Alexandro Pozzer on the first half. The intensity on the defense also made it very difficult for the Chilean players to reach Cesar 'Bombom' Almeida's goal, and easy for the Brazilians to take the turnovers and go on fast breaks, although some of them were stopped by Felipe Barrientos under the posts. The first half finished with a three goal difference: 15-12.
On the second half, Brazil made some adjustments on the attack and especially on their definitions on the fast breaks and stretched the difference. But Chile never gave up and in the last ten minutes of the game, there was a three goal difference. In the end, it was the physical aspect and the defence that took Brazil to their third Pan American title (2006, 2008), something in which most of their players and coach agree with. Like Henrique Teixeira, who pointed that out after the victory: "Our defence was better than Chile's defence today. They made a great match and that's why it was such a tight final. We told ourselves in the dressing room that it had been a long time since we last won this tournament, and today we had a very good chance to be back in this place. This is the ratification of a job well done in the past few years and now we have the Olympic Games ahead, where we'll try to make history".
Jordi Ribera coincided with the centre back: "Chile has always presented us with tough games and we knew they had done a very good job in the pre olympic tournament, so this was not going to be any different. We've had a very easy first round where we played a lot with the fast breaks and we met an unexpected rival in the semifinals (Argentina) so that was really the first team of the tournament that really pushed us to perform better, they came up with a strong defence, unlike other teams, so today's final was very similar to that. Our defence was very good throughout most of the match and we could've had a greater goal difference on the first half but we missed some shots that we do not normally miss; on the second half we had a +3, +4 difference that made us reach the final minutes with a certain composure".
A bittersweet end to a fairy tale tournament
It was not the end everyone expected in Buenos Aires. It was all set up to be a tournament to be remembered. In what the organization regards, it will definitely be, but the results are certainly not the ones that Argentina were looking for. A match for the third place was far from comforting, but after the loss in the semifinal, there was a clear objective: qualifying for France 2017.
Eduardo Gallardo's team had reached the bronze medal match with a sensible loss (Sebastián Simonet, will be out for a month with a shoulder injury) and knowing that a place in the World Championship was at stake. For Uruguay it was a new chance to try and qualify for the ecumenic tournament for the first time ever. But there was no equity in the match. Argentina jumped on court with the mended heart and had no mercy against an Uruguayan team that was unable to stop them. The score on the first minutes was too explicit: 8-0 in 13 minutes.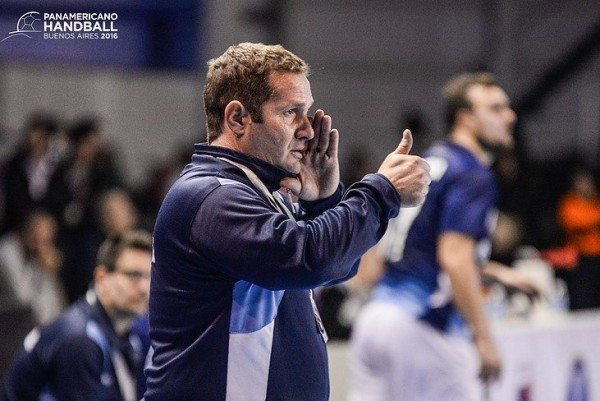 The Argentinian team left no room for recovery for the conducted by Jorge Botejara. In the end, it was a 29-13 (15-5) result that made the day for each of the 5,000 spectators that filled the stadium.
Argentina sealed their spot for France and will now look forward to recovering and preparing for an even greater challenge ahead: the Rio Olympic Games. "This result is very bittersweet because we would have wanted to be in the final. We'll give our players a well deserved week off and then we'll come back to prepare for Rio", expressed Gallardo after the match.
Regarding the organization of the tournament, which has never been seen in this scale in America, the Argentinian coach reflected: "It was fantastic. There was no other Pan American Tournament that was ever played with this level of organization, with this scale of spectators, hats off for the Argentinian Handball Confederation for organizing such a huge event of international level. It is a shame that we weren't able to live up to everyone's expectations".
All star team and MVP:
Goalkeeper: Matias Schulz (Argentina)
Left wing: Felipe Borges (Brazil)
Left back: Minik Hoegh (Greenland)
Centre back: Sebastián Simonet (Argentina)
Right back: Rodrigo Salinas (Chile)
Right wing: Fabio Chiuffa (Brazil)
Line player: Esteban Salinas (Chile)
MVP: Minik Hoegh (Greenland)
Final standings:
1° Brazil*
2° Chile*
3° Argentina*
4° Uruguay
5° Greenland
6° Puerto Rico
7° Mexico
8° United States
9° Colombia
10° Canada
11° Guatemala
12° Paraguay
*Qualified for France 2017