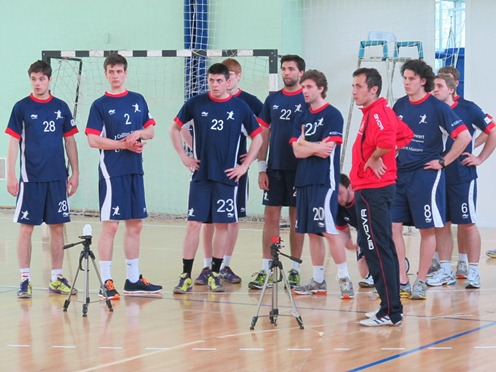 National handball team of Great Britain is for the first time at Olympic Games. Balkan-Handball.com talked with Great Britain's playmaker, Chris Mohr (22) about preparation period and upcoming Olympic Games in London.
What is your comment about the game against HC Železničar 1949?
– We had a physical training the last 2 weeks, this was only our second handball game and we did pretty well. You can see towards the end we get tired, the other team pulled away and they won by 3 goals. It's a good start for us, we would of course, rather won the game.
Are you happy with your preparation period?
– Yes, so far it's been great. We were on Kopaonik, up on the mountain and it's been perfect for us, no distractions, we had hotel for ourselves. It's a perfect prepration and we just have to keep going.
What can you expect from the Olympic Games?
– I'm really excited and it's first OG for us. First time Great Britain handball team were ever going to OG, so we are very excited. It's going to be tough, playing with the best teams on the world. We are really looking forward to it and we are working extremely hard at the moment and we worked hard for the last 3 years. It's going to be an amazingexperience .
Who are favorites for the TOP3 places in the Olympic Games?
– Denmark, as a European Champion, obviously. France, even tho' they had a bad European Championship, and Spain have a good team.
What can you tell about Serbian NT?
– Serbia did very well in January, at home for the European Championship. So you can't underestimate the team, they have very good players.
How do you like Serbia? Is this your first time here?
– No, we been few times here, because of coach Dragan Đukić. We been here 3 or 4 times now, on training camps, played some games with the club teams and also watch European Championship in January. It's a nice country and people are very friendly, it's always very nice to be here.
ALEKSANDRA DENIĆ