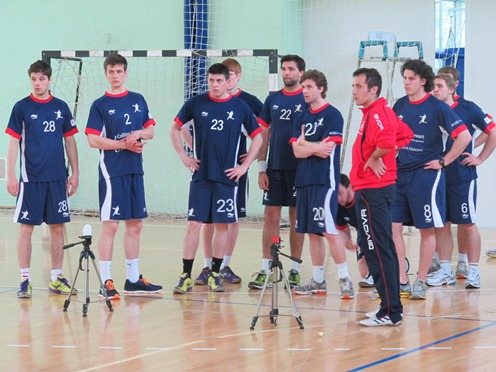 WITH the London 2012 Olympic Games still fresh in the memory, Great Britain's handball stars have spread their wings to clubs across the world as the new season having just started.
And many of the GB players – who helped raise the profile of handball and make the sport the number one legacy sport of the Olympic Games – have been snapped up by top clubs, eager to use their skills.
Holly Lam-Moores from Burnley in Lancashire is enjoying her first season with top Danish club Viborg, and has made a big impression since joining the club.
She was top-scorer with seven goals in their first game of the season, beating Slagelse 32-18, and she scored twice in their second win, 36-23 against FIF, which helped make her the second top scorer so far in a team which are top of the early table.
Kelsi Fairbrother is also in Denmark, where she returned to Esbjerg for another season.
She will face GB team-mate Holly in league matches this season, and has already got on the scoresheet in the first two matches of the season with Esbjerg winning one and drawing one match.
Goalkeeper Laura Innes has returned to LK Zug in Switzerland, the club where she played a year ago before a back injury saw her return to Britain to focus on the Olympic campaign.
LK Zug won their opening match against Basel 42-27, but then lost narrowly, 23-28 to Spono Nottwil.
Bury's Kathryn Fudge is also plying her trade in Switzerland, where she scored three goals in their first match, beating DHB Rotweiss Thun 32-19 last week.
Ipswich's Louise Jukes joined Danish outfit SK Aarhus in the summer, and also made a successful start to the season, scoring twice in their 21-20 opening win over Silkeborg.
Other members of the GB women's handball team include Marie Gerbron, who is now playing with Bravo Handballklubb Tromso in Norway, while Zoe Van Der Weel is with Njard and Nina Heglund with Glasverket, both also in Norway.
Ewa Palies is playing with Noisy le Grand in France, while Jane Mayes is now playing with her old club, Tarm Foersum in Denmark.
* Members of the GB men's Olympic handball team are also back in action, with Mark Hawkins returning to Aftureldingar in Iceland.
Sebastien Edgar is playing for Valence in France, while Gawain Vincent is also in France with Girondins de Bordeaux. Chris Mohr has returned to Odder in Denmark, while Dan McMillan is also returning.
Goalkeeper Nick Satchwell is playing with Basel in Switzerland, alongside GB team-mate Simon Wittlin, while Ben Murray is at SV Beckdorft and Scott Frew at PHC Wittenberge, both in Germany.
And many of the GB players – including former captain Ciaran Williams, remain at Salford Handball Club alongside GB assistant coach Bill Baillie.