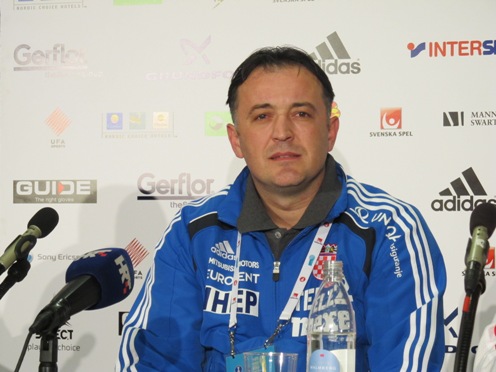 Croatian NT coach, Slavko Goluza decided which player will compete at the Olympic Games in London before second friendly match against Sweden in Rijeka. The most interesting thing is that Croatia will have only one line-player at OG, Igor Vori. Marko Maric, Zeljko Musa and the third goalkeeper, Mate Sunjic will stay at home…
Goalkeepers: Mirko Alilović and Venio Losert,
Left wing:  Manuel Štrlek and Ivan Nincevic,
Right wings: Ivan Čupić and Zlatko Horvat,
Line player: Igor Vori
Backs: Ivano Balic, Domagoj Duvnjak, Drago Vukovic, Blaženko Lackovic, Jacob Gojun, Marko Kopljar, Denis Buntić i Damir Bićanić.
Second goalkeeper, twice Olympic winner, Venio Losert will carry Croatian flag at the Olympic Games openning ceremony. This will be second time in a row that Croatia will be lead by handball player, after Ivano Balic made that in Beijing 2008…