Dika Mem is the World's Young Handball Player 2017/2018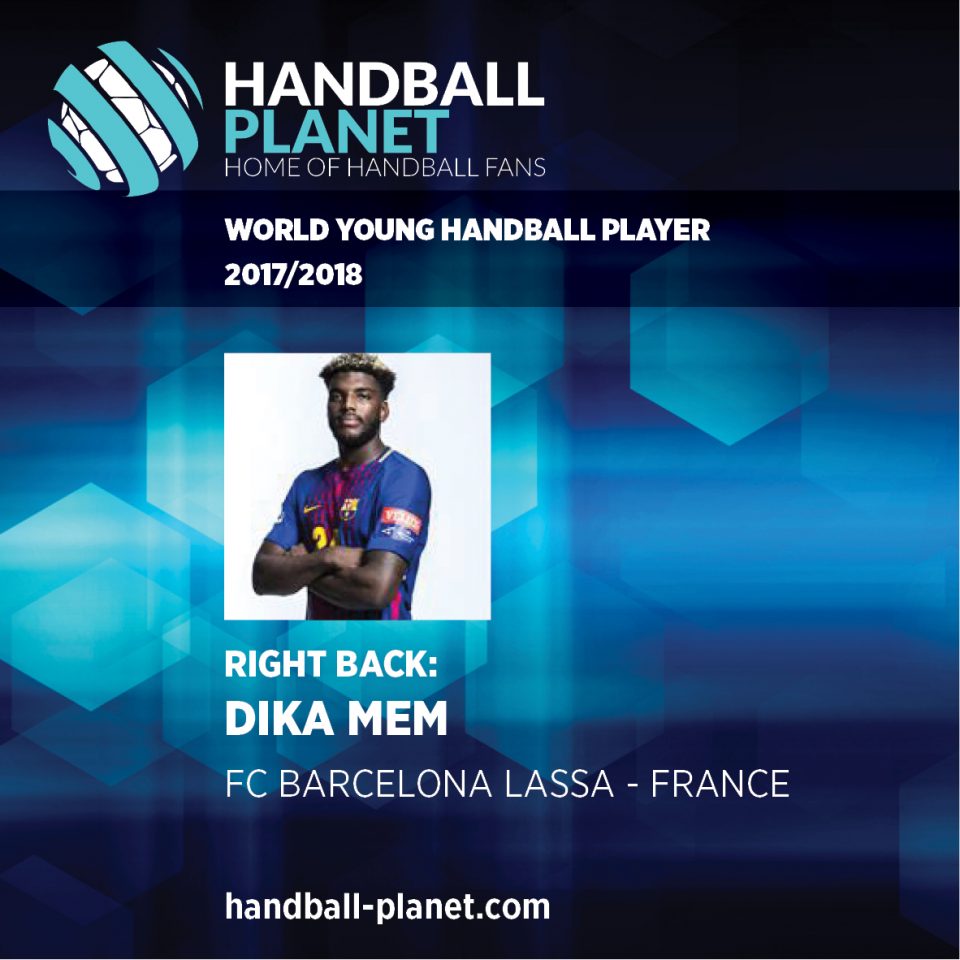 Handball-Planet.com is pleased to announce the results of our fifth Voting Contest for the Young World Handball Player 2017/2018 (generation 1996 and younger). The French youngstar, promising right back, Dika Mem (1996) got the highest number of cumulative votes of handball journalists and handball fans (Handball-Planet.com visitors ). Oustanding performances of the 22 years-old Mem, helped France to win the bronze medal at Men's EHF EURO 2018 in Croatia, but also FC Barcelona Lassa to stay on the TOP of the Spanish handball.
Mem won the award with 44 points in total, ahead of Slovenian right wing Blaz Janc (PGE Vive Kielce, 39) and compatriot, line-player, Ludovic Fabregas (Montpellier Handball, 36).
In two weeks of voting period 15.857 votes for 28 nominated players have shown the outstanding interest for our project, who has the goal to present the future stars of our sport.

COMPLETE RESULTS – BEST 7
Members of the Jury:

Rasmus Boysen (Denmark, hballtransfers.com)
Nicolas Chardon (Handnews.fr TEAM (France)
Stig Nygard (TV 2, Norway)
Sergei Novikov (Fast center, Belarus)
Sergey Prigolovkin (Rushandball.ru, Russia)
Rici Gjamovski (g-sport.mk, Macedonia)
Jorge Dargel Amigo (Marca, Spain)
Marcin Gorcynski (SportoweFakty.pl, Poland)
Konstantinos Chatzidimitriou (e-handball.gr, Greece)
Jasmin Tajic (Oslobodjenje, BiH)
Zika Bogdanovic (Balkan-Handball.com, Serbia)
MEM FOLLOWS SAGOSEN AND DUJSHEBAEV
Handball-Planet.com has got the third world's young handball player in the history of our Contest. The Spanish right back Alex Dujshebaev (2013/2014) won title four years ago, while in the three following, Norwegian superstar Sander Sagosen was unbeatable.
FRENCH STARS…
The biggest number of nominations for WORLD YOUNG HANDBALL PLAYER 2017/18 got French players (7) ahead of Spaniards (5), Slovenians and Belarusians 3…