DKB Bundesliga: SC Magdeburg on 6/6, DHfK Leipzig take points from Mannheim!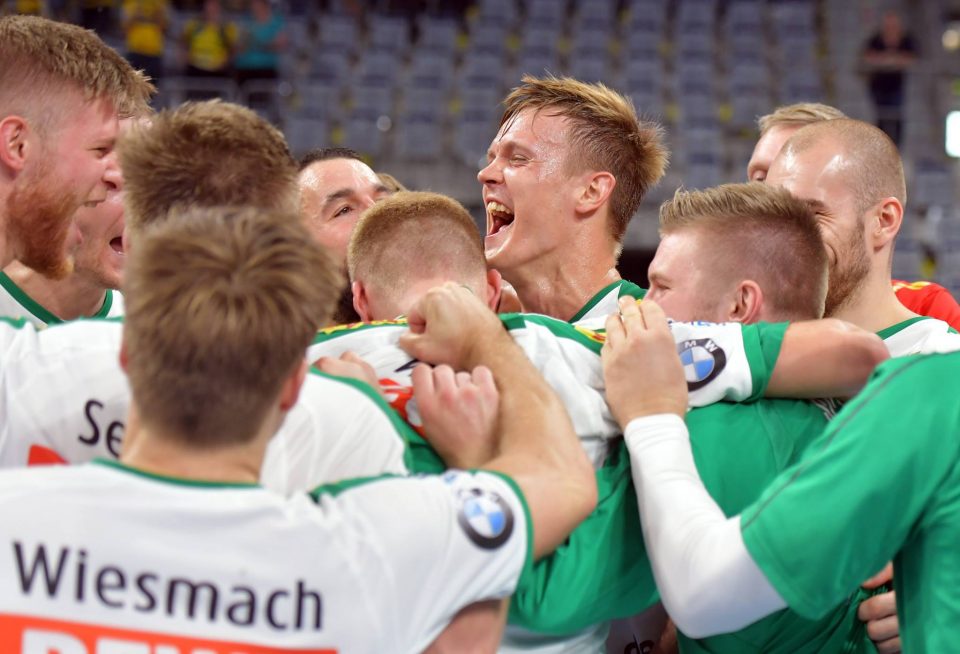 SC Magdeburg are only team still on 100% with six victories at the start of DKB Bundesliga which is the best start of the team ever in German league.
Rhein Neckar Lowen made "ein fehler" in home match with DHfK Leipzig which ended 24:24.
Here are the results of Round 6:
Frisch Auf Göppingen – TVB Stuttgart 31:25 (14:11)
THW Kiel – SG BBM Bietigheim 34:20 (13:10)
Rhein-Neckar Löwen – SC DHfK Leipzig 24:24 (12:11)
Rhein-Neckar Löwen: Kohlbacher 5/1, Tollbring 5/2, Fäth 4, Groetzki 4, Larsen 3, Petersson 3
SC DHfK Leipzig: Pieczkowski 5, Santos 5, Semper 4, Ph. Weber 4, Wiesmach 4/2, Milosevic 2
VfL Gummersbach – SC Magdeburg 20:31 (10:17)
Bergischer HC – TBV Lemgo Lippe 35:26 (18:10)
STANDINGS:
1.

SC Magdeburg

6
6
0
0
185:146
12

2.

Flensburg-H.

5
5
0
0
148:116
10

3.

Rhein-Neckar

5
4
1
0
148:112
9

4.

Goppingen

5
4
0
1
119:119
8

5.

Kiel

5
3
0
2
143:124
6

6.

Bergischer

5
3
0
2
150:136
6

7.

MT Melsungen

5
3
0
2
151:139
6

8.

Hannover-Burgdorf

5
3
0
2
139:132
6

9.

Minden

5
2
0
3
138:140
4

10.

Lemgo

5
2
0
3
126:131
4

11.

Fuchse Berlin

4
2
0
2
101:106
4

12.

Stuttgart

5
2
0
3
130:142
4

13.

Leipzig

5
1
1
3
128:138
3

14.

Erlangen

4
1
0
3
102:111
2

15.

HSG Wetzlar

5
1
0
4
128:141
2

16.

Gummersbach

5
1
0
4
114:145
2

17.

Ludwigshafen

4
0
0
4
93:117
0

18.

Bietigheim-Metterzimmern

5
0
0
5
110:158
0
PHOTO: DHfK Leipzig FB