EHF CL Main Round: Buducnost wins draw in Gyor! Krim beats Larvik!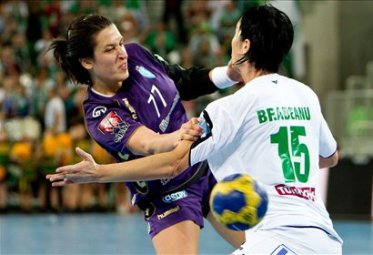 The main round of the EHF Champions League in Women's competition kicked off this Saturday, with three matches on the programme. It was most interested in Hungary, where Champions League winner Gyori ETO had very hard time to contain Buducnost from Podgorica. Buducnost led 13:9 at half time, but were unable to keep the lead until the end of the game, and with a sharing of points with 23:23 it seems was the most fair epilogue of this game.
In Denmark, Midtjylland scored a narrow but very important victory over neighbouring Savehof. In a very close which was played goal-for-goal, the Danish team won 25:24, and have secured their first points.
Big surprise happened in Ljubljana, where host Krim were merciless to favorized Norwegian squad – Larvik. Larvik were huge favorites to win this game, but ever since the beginning of the match Krim were in full control of the game led by Penezic in the attack with 7 goals, while goalkeeper Stefanisin was brilliant too.