EHF
EHF EURO 2022: Switzerland and Romania OUT, Lithuania, Montenegro, Austria, Bosnia and Herzegovina IN!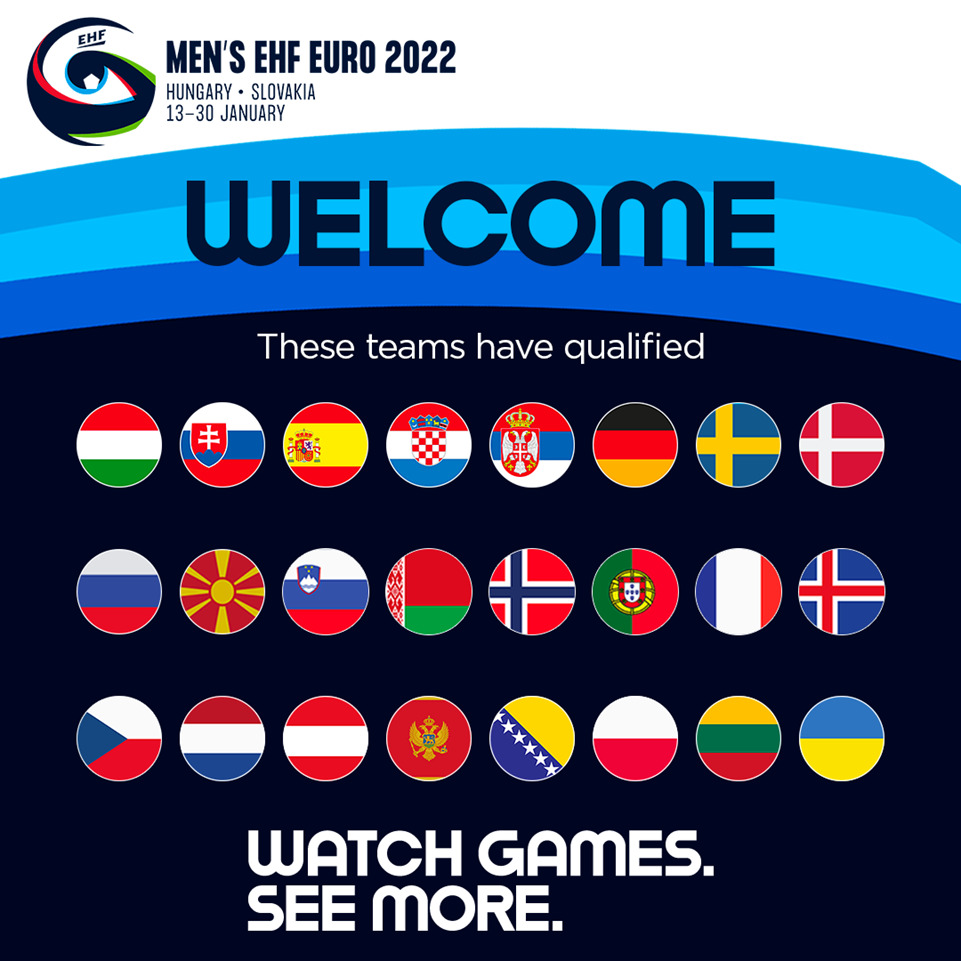 Serbia, France, Germany, Russia, Czech Republic, Portugal, Iceland, Slovenia, Netherlands, Norway, Belarus, Denmark, North Macedonia, and Sweden have all picked up their tickets will join EHF EURO 2022 co-hosts Hungary and Slovakia.
On Sunday Austria, Montenegro, Bosnia Herzegovina, Poland, Lithuania, and Ukraine joined the list to complete the full list of 24 teams at the EHF EURO 2022. The final tournament draw will take place on 6 May 2021.
It was an all-or-nothing game for both Montenegro and Romania in group 8 of the EHF EURO 2022 qualifiers, although a draw would probably have secured an EHF EURO 2022 berth for both sides. Having frustrated Romania throughout the match, Montenegro secured a 23:19 win that confirmed their place at the EHF EURO 2022.
Former world champions Romania failed to qualify for the EHF EURO for the 13th time in a row.
Despite losing by five to Portugal, Lithuania grabbed a ticket for the EHF EURO 2022. This will be their second appearance among Europe's elite, with the first coming way back in 1998.
Austria left it late to secure their ticket for EHF EURO 2022 but did so with a strong win against Bosnia Herzegovina, who also went through for their second straight final tournament ticket.
Going into the last round of Men's EHF EURO 2022 qualifiers, Denmark and Macedonia had already secured the first two places in group 7, but Switzerland still had the opportunity of qualifying for the final tournament.
Despite an eight-goal outing from the top goal scorer of the EHF EURO qualifiers, Andre Schmid, Switzerland could not overcome Macedonia, meaning that they missed out on qualification as their only two wins had come against Finland.
GROUP 8 – 6. ROUND
Montenegro – Romania
23:19
Sweden – Kosovo
39:16
GROUP 7 – 6. ROUND
Denmark – Finland
46:24
North Macedonia – Switzerland
29:28
GROUP 6 – 6. ROUND
Belarus – Latvia
30:26
Norway – Italy
37:16
GROUP 5 – 6. ROUND
Netherlands – Poland
32:30
Slovenia – Turkey
39:24
GROUP 4 – 6. ROUND
Iceland – Israel
39:29
Portugal – Lithuania
30:25
GROUP 3 – 5. ROUND
Faroe Islands – Russia
23:28
GROUP 3 – 1. ROUND
Czech Republic – Ukraine
27:22
GROUP 2 – 6. ROUND
Austria – Bosnia & Herzegovina
27:23
Germany – Estonia
35:20
GROUP 1 – 6. ROUND
France – Greece
46:30