EURO 2012: Montenegro wins war against Hungary – Superb Romania smash Spain!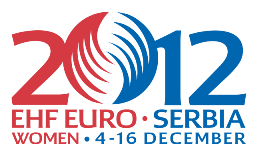 Three fantastic matches could be seen by handball fans all around Europe in Novi Sad, where Main Round Group at Women's EHF EURO 2012 taking place. Romania easily beat Spain 31:26 with good performance of Cristina Neagu, who showed a level before the shoulder injury. In the second match, after three red cards (Knežević, Tomori and Klikovac) and serious injury of Majda Mehmedović, Montenegro beat Hungary 28:26 (15:9) with fantastic series of Katarina Bulatović (8), who scored four times in the last ten minutes.
In the third match, Russia and Germany played 26:26. Both teams has still some chance to finish tournament in Belgrade's Kombank Arena.
STANDING:
Montenegro 6
Hungary 4
Romania 3
Spain 2
Russia 2
Germany 1