HANDBALL BUNDESLIGA: RNL, Flensburg and Kiel at the TOP, Buric 24 saves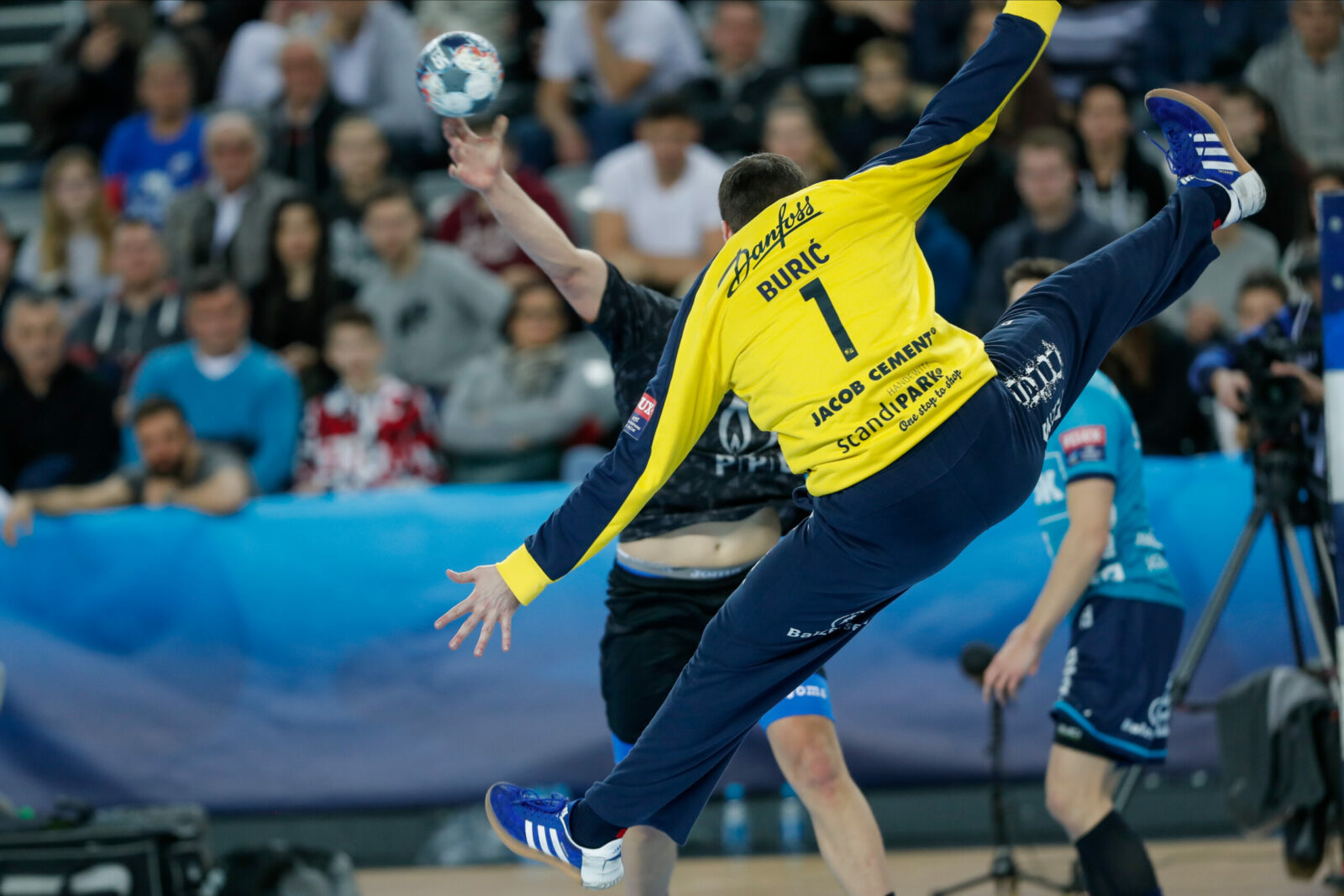 There is no more teams with 100% score in German Bundesliga after only five round of matches. However, at the TOP are three teams who are main favorites to win the trophy at the end of the season – Rhein Neckar Lowen, SG Flensburg Handewitt and THW Kiel.
The Man of the Weekend was SG Flensburg Handewitt goalkeeper Benjamin Buric who had 24 saves in victory of his team against Coburg 2000 – 32:22.
Here are the results:
Erlangen – Rhein-Neckar 20:26
Flensburg-H. – Coburg 2000 32:22
HSG Wetzlar – MT Melsungen 25:33
Minden – Fuchse Berlin 31:26
SC Magdeburg – Stuttgart 29:30
Nordhorn-Lingen – Kiel 29:35
Hannover-Burgdorf – Bergischer 30:30
HBW Balingen-Weilstetten – Ludwigshafen 26:27
Leipzig – Goppingen 22:25
Lemgo – Essen 31:23
STANDING:
1.

Rhein-Neckar

5
4
0
1
138:119
8

2.

Flensburg-H.

5
4
0
1
144:128
8

3.

Kiel

5
4
0
1
156:142
8

4.

Leipzig

5
3
1
1
130:113
7

5.

Bergischer

5
3
1
1
141:130
7

6.

Lemgo

5
3
1
1
135:124
7

7.

MT Melsungen

5
3
1
1
130:124
7

8.

Stuttgart

5
3
1
1
137:136
7

9.

SC Magdeburg

5
3
0
2
144:127
6

10.

HSG Wetzlar

5
3
0
2
134:128
6

11.

Goppingen

4
2
1
1
102:100
5

12.

Hannover-Burgdorf

5
2
1
2
141:143
5

13.

Fuchse Berlin

5
2
1
2
128:134
5

14.

Erlangen

5
1
1
3
133:139
3

15.

Minden

5
1
1
3
128:134
3

16.

Essen

4
1
0
3
106:122
2

17.

Ludwigshafen

5
1
0
4
114:131
2

18.

Nordhorn-Lingen

5
1
0
4
130:150
2

19.

HBW Balingen-Weilstetten

5
0
0
5
127:143
0

20.

Coburg 2000

5
0
0
5
119:150
0