The best world's handball league DKB Bundesliga 2013/2014 start on Saturday. Slightly smaller budgets of the teams and much more interesting battle for the championship title are the first things which handball analysists can share with the handball community. Since THW Kiel lost four important players (Omeyer, Narcisse, Ahlm and Ilic) nobody is so sure to say that "Zebras" will remain at the TOP in the upcoming season. How long will need newcomers to adapt in system and how they will react on pressure of playing for the "best team in Europe", it is still big question.
TOP 5 TEAMS
HSV Handball stayed without some important players (Vori, Kraus, Lijewski), but some young guys as Djordjic, Mahe and others are still ready to fight for the TOP. We have to mention Joan Canellas, guy without whom Talant Dujshebaev couldn't imagine BM Atletico Madrid in previous years.
Rhein Neckar Lowen keep the forces from the previous fantastic season and with two experienced guys, Manojlovic and Gorbok, "Lions" could be a real dangerous for the other teams from TOP 5.
Despite they are the squad with smaller budget, other teams from TOP 5 put the pressure on SG Flensburg! Ljubo Vranjes is doing fantastic job in Flensburg, but is that enough to have high form in 34 rounds? Youngstars as Drasko Nenadic and Bogdan Radivojevic showed potential at Super Cup in Bremen, but they are still "newcomers" to the big world of German handball.
Fuchse Berlin didn't upgrade squad as Sigurdsson and Hanning always do during summer break. There is no a lot of big signings. Pavel Horak is good shooter, but probably that won't be good enough to fight for the trophy.
TOP 6 – 10
The group of teams in the second "TOP 5" lead TSV Hannover Burgdorf with two very nteresting signings – Vasko Sevaljevic and Borut Mackovsek. Young Balkan guns (left backs) are very promising players with bright future in Bundesliga. Ivano Balic and Magnus Dahl are the new forces of the biggest last year surprise HSG Wetzlar. Frisch Auf Goppingen made a lot of changes, but "son of the club", Michael Kraus is some kind of guarantee that Velimir Petkovic's team will be serious contender in the upcoming season. List of TOP 6 – 10 teams we will close with SC Magdeburg and MT Melsungen.
BOTTOM – BERGISCHER "LIONS" TO SURVIVE?
One of the "rules" in DKB Bundesliga is that most of newcomers going back to 2nd Bundesliga after only a season in the elite. Last year, GWD Minden survived in the elite instead of TV Grosswallstadt and for this year, our opinion is that Bergischer with Laszlo Silagy is the most serious newcomer who has chances to survive.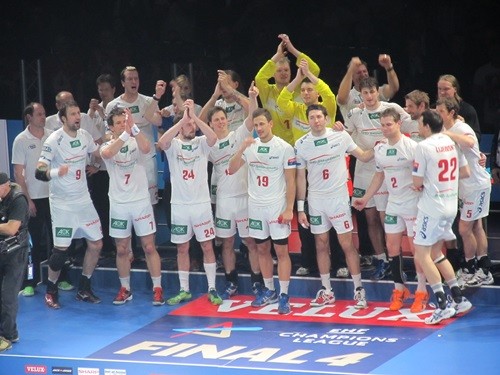 "BEST SEVEN" –
1. HSV HANDBALL
2. THW KIEL
3. RHEIN NECKAR LOWEN
4. SG FLENSBURG
5. FUCHSE BERLIN
"THE LONGEST BENCH"
1. HSV HANDBALL
2.  RHEIN NECKAR LOWEN
3. THW KIEL
4. SC MAGDEBURG
5. MT MELSUNGEN
THE BEST BUY "SUMMER 2013" –
1. RHEIN NECKAR LOWEN
2. TSV HANNOVER BURGDORF
3.  FA GOPPINGEN
4. HSG WETZLAR
5. HSV HANDBALL
"WEAKER THAN LAST SEASON"
1. THW KIEL
2. TBV LEMGO
3. HBW BALINGEN
4. HSG WETZLAR
5. TUS LUBBECKE
DKB HBL 2013/2014 "POSSIBLE STARS"
Rasmus Lauge Schmidt (THW Kiel)
Bogdan Radivojevic (SG Flensburg)
Petar Djordjic (HSV Handball)
Vasko Sevaljevic (TSV Hannover Burgdorf)
Borut Mackovsek (TSV Hannover Burgdorf)
Fredrik Petersen (Fuchse Berlin)
Marko Bezjak (SC Magdeburg)
Johannes Sellin (MT Melsungen)
Evgeni Pevnov (Frisch Auf Goppingen)
Jeffrey Boomhouwer (TV Emsdetten)