Mid-East Europe
HC Dragunas Klaipeda new Baltic Handball League 2020/2021 champion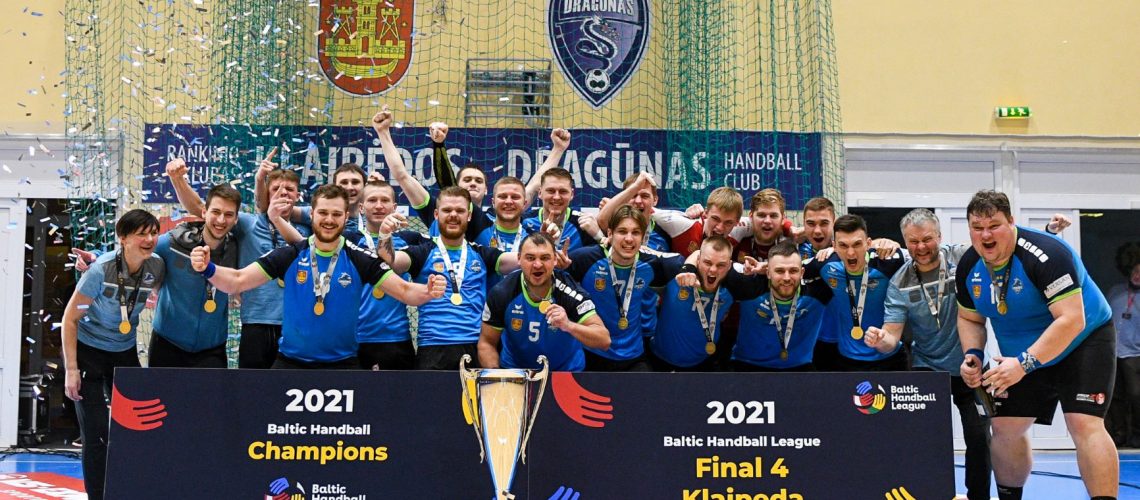 Baltic Handball League 2020/2021 season is over. The new champion is HC Dragunas Klaipeda, who defeated VHC Šviesa Vilnius 33:30 (17:12) in the final. Bronze-medals went to Serviti Põlva, beating Varsa-Stronglasas Alytus 26:24 (12:15).
The meetings of the two top Lithuanian teams had in regular season both went Šviesa's way. But the most important match before the BHL final – Lithuanian Cup semi-final back in February – had been won by Dragunas 34:32. It was to date the only time Šviesa had lost to a domestic opponent this season.
Dragunas took an early lead and never let go
There was no holding back in the final – goals started to come thick and fast. Dragunas made a better start in the familiar surroundings and inside first five minutes took a 5:2 lead. By 12th minute Benas Butkus put the hosts 10:5 ahead and Šviesa used the first team time-out. Reaction was immediate with Skirmantas Pleta cutting the deficit to two goals, 10:8.
However, Dragunas pushed the foot on the gas pedal and in the 22nd minute managed to get the biggest lead of the first half, when Gytis Šmantauskas made it 15:9. First half ended 17:12 for Dragunas and it was much of the same in the next 25 minutes. No matter what Šviesa tried, Dragunas had answers.
Having scored seven goals in the first half for Šviesa, Karolis Antanavičius continued in fine scoring form and Karolis Bliuvas converted penalty throws, but at the other end of the field the Virbauskas-brothers seemed unstoppable for the second day in a row. Dragunas' best lead was 27:20 in the 48th minute before Šviesa made their last effort.
Pleta made it 29:26 from a quick counter-attack with five minutes to go, but Dragunas held on and won 33:30, celebrating the club's first BHL title. Deividas Virbauskas scored nine goals and his brother Žanas Gabrielius added seven for the winners, while Antanavičius was on target 12 times for the losing side.
"This is the biggest win in the club history!" commented Arturas Juškenas, head coach of Dragunas. "Yes, maybe advancing to the last 16 in European Cup was also big, but it is not a trophy. So it is definitely the best achievement for Dragunas and I am very happy for the club and for the players to have done this."
"I can call it a double-pleasure, as it is also a win for everyone involved in handball in three Baltic States. Despite all the difficulties during the season, we managed to overcome them and the fact alone that we concluded the season, is a big achievement," added Juškenas.
Serviti denied Varsa-Stronglasas the first-ever medal
Few hours earlier, the bronze-medallist was determined in a very tight match, where both teams were clearly hungry for the medal. Varsa-Stronglasas started better and took a 4-1 lead. Serviti came back and drew after Ülljo Pihus' goal 7:7. However with All Star centre back Žygimantas Micevičius pulling the strings, Lithuanians took a 15:12 half-time lead.
It was only in the second half when Serviti's tactical approach started to bring dividends, as the Estonians used 7-6 in attack and 5-1 in defence to take Micevičius out of the game. Again Serviti pulled level through birthday-boy Alfred Timmo in the 41st minute, but had to wait another five minutes for the first lead in the match.
It was Timmo again, whose thundering shot made it 19:18 in the 46th minute. The lead stayed narrow, three times Varsa equalized, but Serviti did not let go and won the bronze-medal match 26:24. Sander Sarapuu and Henri Sillaste for Serviti, Micevičius and Tautvydas Petrušauskas for Varsa were the best scorers with five goals.
Top 3 of 2020/2021 Baltic Handball League:
1. HC Dragunas Klaipeda: Danylo Hlushak, Laurynas Simonavičius, Arvydas Bučius, Mykolas Lapiniauskas, Deividas Virbauskas, Gintaras Cibulskis, Rokas Palskys, Ignas Savičius, Mantas Stankaitis, Lukas Juškenas, Žanas Gabrielius Virbauskas, Tomas Drakšas, Orestas Biknius, Benediktas Pakalniškis, Benas Butkus, Gytis Šmantauskas, Tomas Valentukevičius, Orestas Biknius, Edvinas Aidukonis. Head coach Arturas Juškenas.
2. VHC Šviesa Vilnius: Karolis Antanavičius, Tomas Bernatavičius, Valdas Drabavičius, Šarunas Ugianskis, Ignas Jonuška, Taurintas Markiavičius, Laurynas Palevičius, Edmundas Peleda, Matas Pranckevičius, Domantas Pukas, Rosvaldas Ramunis, Tadas Rasakevičius, Arturas Švilpa, Karolis Bliuvas, Eimantas Sinkevičius, Skirmantas Pleta, Domantas Jonušauskas, Rytis Paškevičius, Modestas Adomenas. Head coach Raimondas Maldžius.
3. Serviti Põlva: Jürgen Lepasson, Sander Sarapuu, Tõnis Kase, Kristjan Muuga, Markel Veiko, Otto Karl Kont, Mathias Rebane, Raiko Rudissaar, Eston Varusk, Henri Sillaste, Arturs Meikšans, Anatoli Tšezlov, Ülljo Pihus, Indrek Neeme, Henri Hiiend, Andris Celminš, Carl-Eric Uibo, Alfred Timmo, Mario Karuse, Siivo Sokk, Christofer Viilop. Head coach Kalmer Musting.
All Stars of the 2020/2021 season: Edmundas Peleda, Karolis Antanavičius, Valdas Drabavičius (all Šviesa), Gytis Šmantauskas (Dragunas), Mathias Rebane, Ülljo Pihus (both Serviti), Žygimantas Micevičius (Varsa-Stronglasas).
Final Four MVP: Deividas Virbauskas (Dragunas).
Top scorer: Karolis Antanavičius (Šviesa) 89 goals.
On photo: Winners of the 2020/2021 Baltic Handball League – HC Dragunas Klaipeda. (Photo: Virginija Kesmine/BHL).