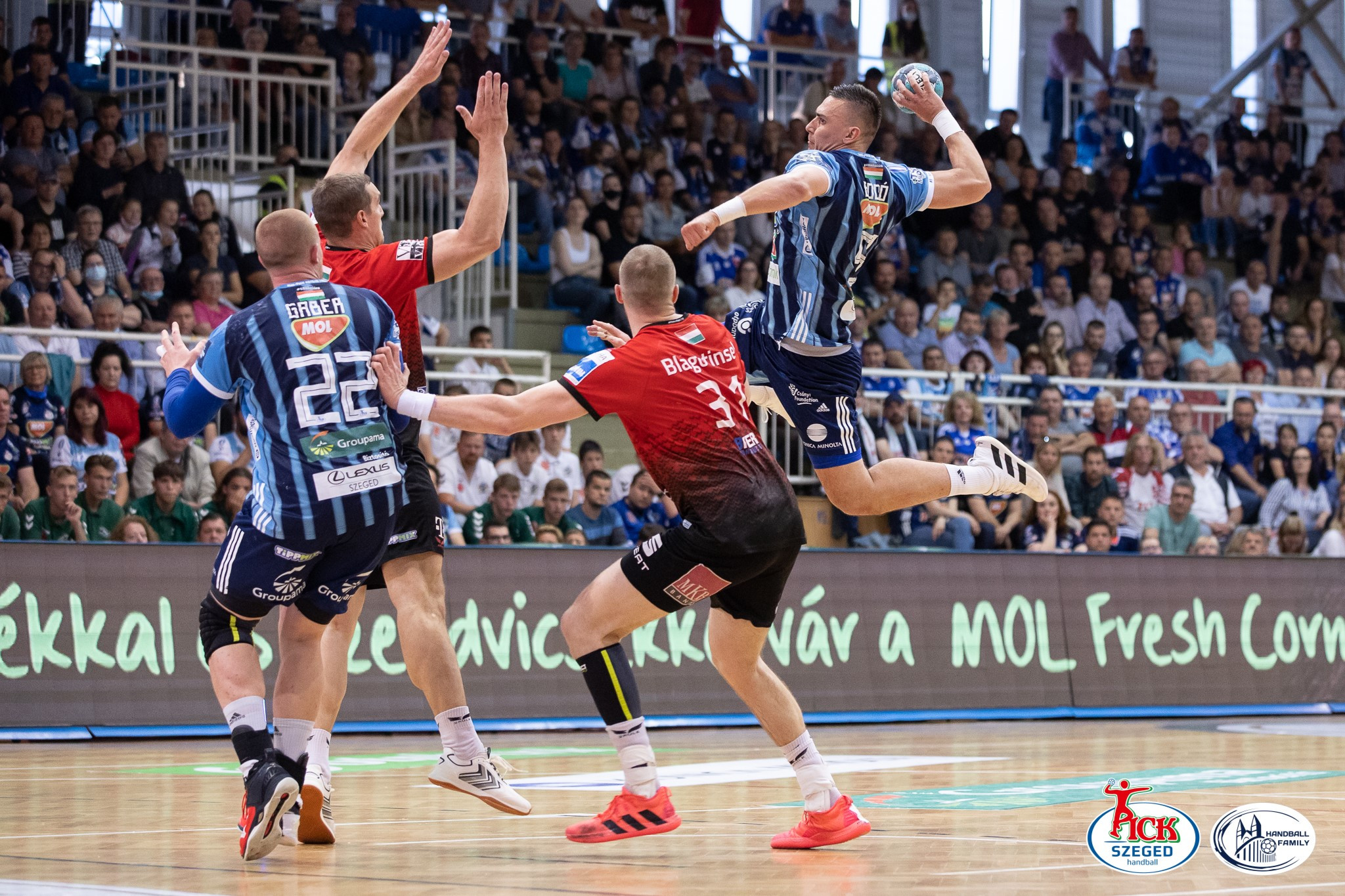 MOL Pick Szeged win the first match of the Hungarian Play-Off Final. The team of Juan Carlos Pastor will start the last match of the season on Saturday in Veszprem with 3 goals advantage.
The home team supported by 2.600 fans had attack for +5 at the end, but mistake gave a chance to Veszprem to decrease home win and make chances bigger in the second clash.
Bodo was TOP scorer in the winning team with five goals. On the other side, Nenadic netted seven goals.
MOL-PICK Szeged–Telekom Veszprém 31–28 (14–14)
MOL-PICK Szeged: Alilovic – Radivojevic 4/4, Kaspárek 4, Bombac 4, Bánhidi 4, Bodó 5, Källman 4, Mikler, Gaber, Mackovsek 1, M. Stranovky, Canellas 2/1, Sostaric, Zsitnyikov 3.
Telekom Veszprém: Corrales – Gas. Marguc 3, Yahia 6/2, Blagotinsek, Ligetvári, Nilsson 7, Manaszkov 4, Cupara, Lékai, P. Nenadic 7/2, Moraes, Tönnesen 1, Mahé, Maqueda. 
Juan Carlos Pastor, head coach of MOL-PICK Szeged: – It was a great feeling to play handball in such a fantastic atmosphere, our fans helped us a lot today. It is difficult to find another fan in Europe like Szeged – Veszprém. We can be glad to be a part of this. It was a balanced match, in the end, we played a little better, so we won by three goals. We will have to defend ourselves better in Veszprém because we made a lot of mistakes in the back.
David Davis, head coach of Telekom Veszprém: – It is always very difficult to play against Szeged. We missed several players, we fought well all the way through, but in the end we lost more balls. Whatever happened today, we had two days to prepare for the all-decisive domestic sixty minutes.