Germany
IT'S OFFICIAL: Klaus Gärtner replaces Schwalb, Sebastian Hinze form 2022!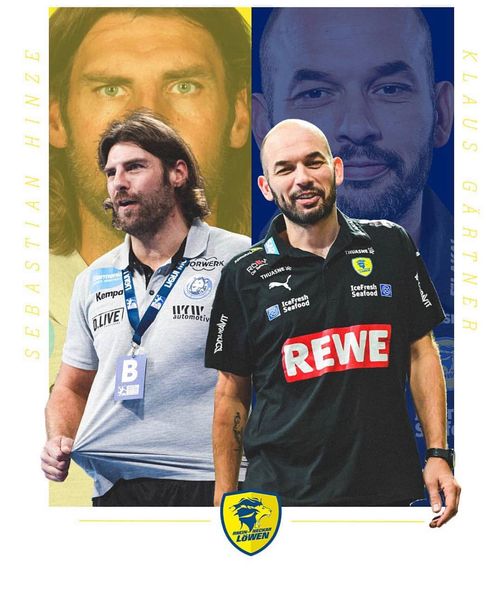 Setting the course for the Lions: The two-time German champion and cup winner is heading into the coming season of the LIQUI MOLY handball Bundesliga with Klaus Gärtner as head coach. The supervisory board, the management, and the sporting management of Rhein-Neckar Löwen agreed on this with the 45-year-old EHF master coach, who will be promoted from the current co-coach to the head coach and will succeed Martin Schwalb in the new season. From summer 2022, Sebastian Hinze will take on the role of head coach at the Rhein-Neckar Löwen. Hinze, currently still in the service of the league rival Bergischer HC, has given those responsible for the Rhein-Neckar Löwen a corresponding promise.
"In the search for a head coach for the future, we created a clear requirement profile and quickly came to the conclusion that Sebastian Hinze was our desired solution for this important position. A challenging future lies ahead of the Rhein-Neckar Löwen, we want to continue our sporting upheaval and also have to cope economically with the consequences of the corona pandemic, which will certainly be with us for a long time. With Sebastian Hinze, we see ourselves as a first-class coach in the long term. The impressive development at Bergischer HC in recent years is not least his signature and we are pleased that we have succeeded in convincing him of the Rhein-Neckar Löwen.
"Klaus Gärtner enjoys our trust as head coach for the coming season. Klaus is an absolute handball specialist, and nobody knows our team and the club better than him. Klaus has the great advantage that he can and will grow step by step into his new role as head coach during the current season. Together with Klaus we want to offer attractive handball in the coming season and we will support him in the best possible way ", adds Oliver Roggisch, Sport Director of the Löwen.
"To succeed trainer Martin Schwalb is a great challenge and an honor for me. I would like to thank those responsible for the trust they have placed in me, "said Klaus Gärtner, who was youth coordinator at SG Kronau-Östringen from 2012 to 2014 and then from 2014 to 2018 co-trainer of the Löwen professional team. After two years as head coach at the top Austrian club ALPLA HC Hard (2018-2020), the Heidelberg native returned to the Rhein-Neckar Löwen as an assistant coach in summer 2020. The sporting planning also provides that Klaus Gärtner the lion will remain under Sebastian Hinze as an assistant trainer with a clear task profile.