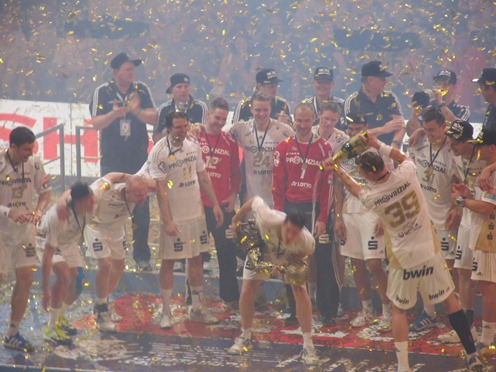 Historic season for THW Kiel. The North-German team finished the Bundesliga with all 34 victories, won the F4 in Cologne, and won the German Cup as well, a triple crown! After the game against Gummersbach, which was the last this season, a celebration took place around the Sparkassen Arena with around 20,000 people there!
The German club also used this opportunity to say goodbye to Kim Andersson, Milutin Dragicevic, Henrik Lundstrom and Daniel Kubes, which will leave the club.
And they already found replacements for the next season. Sigurdsson is coming on the left wing position, Henrik Toft Hansen will be the new pivot, while Marko Vujin will try to replace Kim Andersson.
Next seasons season-tickets are on sale, the price is from 171 EUR to 742 EUR.