WHP
Nenad Sostaric is Women's World Handball Coach 2020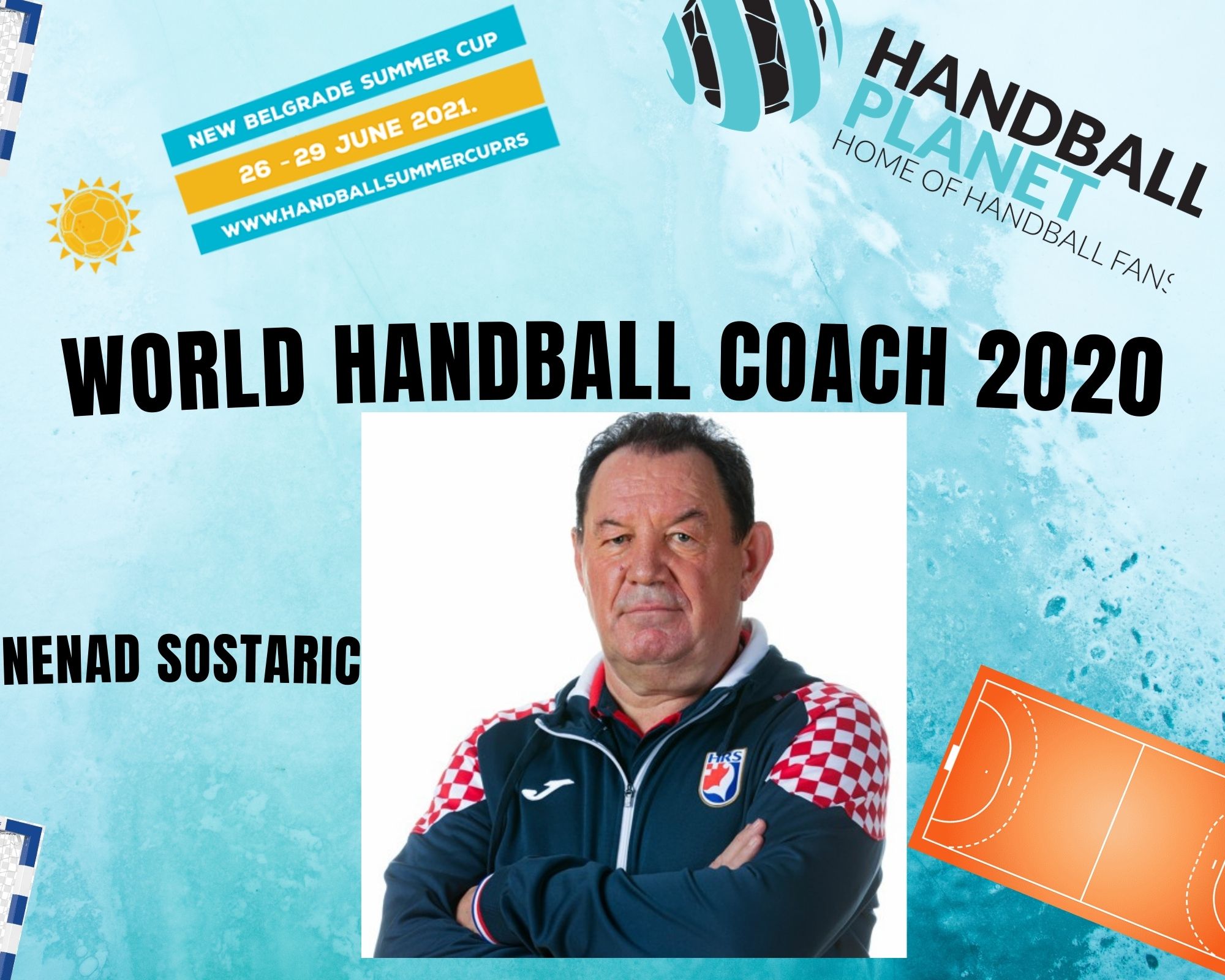 The coach of Croatian national team and ZRK Lokomotiva Zagreb, Nenad Sostaric, is World Handball coach in Women's handball 2020 powered by Handball-Planet.com and New Belgrade Summer Cup.
The 62-years old coach made a little miracle with the national team who won bronze medal at Women's EHF EURO 2020 in Denmark, what was one of the biggest surprise in the history of European Championships.
Handball journalists from all over the world, but also fans (7.122 votes), who responded on nominations, put Sostaric (21) and Hergeirsson (21) together with the same number of points. Additional criteria was number of Jury members who give maximum number of points to one of the coaches (3:2 for Sostaric). The second one would be the number of points given by fans (also Sostaric was ahead).
WOMEN'S WORLD HANDBALL COACH 2020
Nenad Sostaric (11 jury + 10 fans) 21+1
Thorir Hergeirsson (14 jury + 7 fans) 21
Jesper Jensen (4 jury + 4 fans) 8
Laurent Bezeau (3 jury + 1 fans) 4
WHO IS THE BEST WORLD' COACH IN WOMEN'S HANDBALL 2020?
 NENAD SOSTARIC (CROATIA – LOKOMOTIVA) (51%, 3,657 VOTES) 10
THORIR HERGEIRSSON (NORWAY) (46%, 3,292 VOTES) 7
JESPER JENSEN (DENMARK) (2%, 138 VOTES) 4
LAURENT BEZEAU (BREST BRETAGNE) (0%, 35 VOTES) 1
TOTAL VOTERS: 7,122
JURY MEMBERS:
Bjorn Pazen (Handball Woche – Germany)
Lars Bruun-Mortensen (TV2.dk – Denmark)
Johannes Lange (handbolti.is  – Iceland)
Jorge Dargel (MARCA, Spain)
Ibolya Szekeres (Time Out Mag, Hungary)
Laura Agena (Handball-Planet.com, Argentina)
Života Bogdanović (Balkan-Handball.com, Serbia)
Stig Nygard (TV 2, Norway)
JURY MEMBERS FROM EUROPE AND SOUTH AMERICA
Our goal that handball world gets a public and fair contest for the World's best players of the year, since 2010 received a big support from the parts of handball globe. WORLD HANDBALL PLAYER 2020 Jury has consisted of people with their names and CV's with the clear aim to get opinion from different countries, continents, handball schools and traditions. Our Jury members are famous handball specialists in their countries, which coming from the biggest media (Marca, TV 2 NO, etc), but also from specialized websites and newspapers as timeout.org, Balkan-Handball.com, handballfast.ru…
WINNERS
Thorir Hergeirsson – 2011
Karl Erik Bohn – 2012
Ambros Martin – 2013, 2017 and 2018
Dragan Adžić – 2014 and 2015
Yevgenii Trefilov 2016
Emmanuele Mayonnade 2019
Nenad Sostaric – 2020
WORLD HANDBALL PLAYER 2021 – PARTNERS
CREATIC – https://creatic.hu/

MASTERS HANDBALL WORLD CUP 2021 – mhworldcup.com