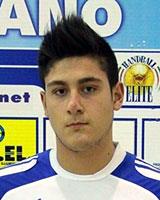 One of the most promising young Italian players, Giuseppe Colasuonno, has signed a two years' contract with the French D2 team US Creteil.Infact he will start his French pro adventure at the end of July.
Colasuonno, a line player born in 1995, is 1.97 m tall with a weight of 105 kgs.
He has been a regular in the Italian Under 20 and Under 18 national teams.
When Giuseppe was only 15 years old, in order to play handball, he left his hometown of Andria to move to Fasano.
He played for one of the best-known Italian teams, Conversano, from 2011 to 2013.
Last March during a try-out at US Creteil, both coach Pavoni and the team manager Gueric Kervadec were impressed by Colasuonno's promising playing and physical skills, which ended with signing the two years deal.
Hopefully, after Giuseppe, other young Italian players will try to land a contract abroad, as at a time where Italian men's handball is sinking gripped with an endemic crisis, the only way to promote the growth of young players will be to get noticed in more competitive and financially stable European leagues.
Good luck to Giuseppe!
Useful links:
www.uschb.fr
@USCreteilHB
LUCA  DEL BIANCO