ROMANIA: AHC Dobrogea Sud beat CSM Bucuresti in derby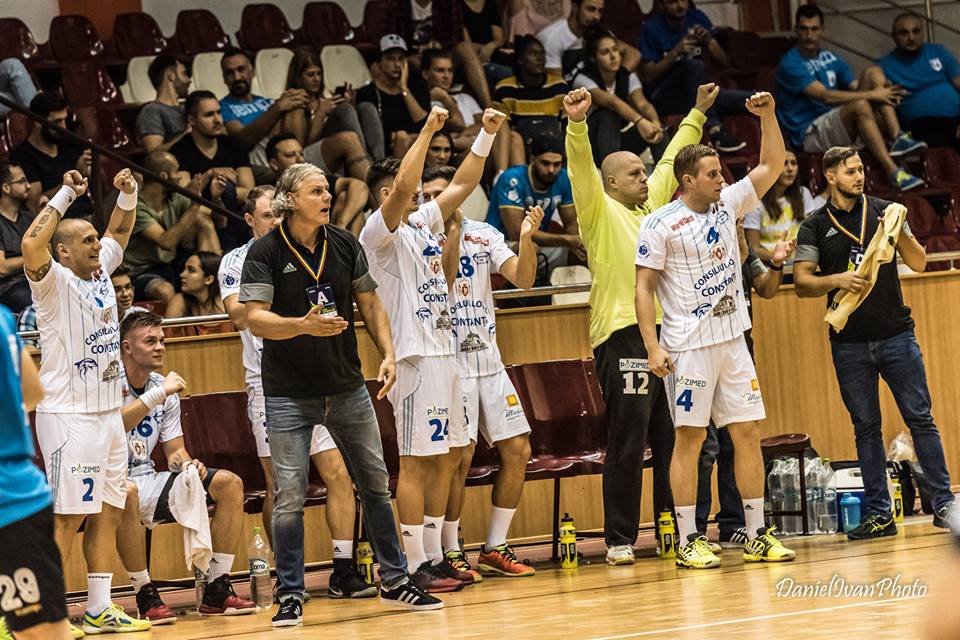 HC Dobrogea Sud celebrated win in derby match of Round 2 of Romanian Championship in Bucharest, where guys from Constanta beat CSM 29:26. Team led by French coach Christian Gaudin celebrated another important victory after winning the Supe Cup against reigning champions Dinamo Bucharest. Nikola Crnoglavac (9) and Stefan Vujovic (8) were TOp scorers in this victory.
However, after two rounds of matches, only three teams are on 1005.
Standings:
| | | | | | | | | |
| --- | --- | --- | --- | --- | --- | --- | --- | --- |
| 1. | Dinamo Bucuresti | 2 | 2 | 0 | 0 | 68:48 | 6 | |
| 2. | Steaua Bucuresti | 2 | 2 | 0 | 0 | 48:40 | 6 | |
| 3. | Calarasi | 2 | 2 | 0 | 0 | 52:50 | 6 | |
| 4. | Turda | 2 | 1 | 0 | 1 | 55:50 | 3 | |
| 5. | Timisoara | 2 | 1 | 0 | 1 | 51:47 | 3 | |
| 6. | Suceava | 2 | 1 | 0 | 1 | 48:49 | 3 | |
| 7. | Vaslui | 2 | 1 | 0 | 1 | 53:54 | 3 | |
| 8. | Constanta | 2 | 1 | 0 | 1 | 52:55 | 3 | |
| 9. | Odorhei | 2 | 1 | 0 | 1 | 53:57 | 3 | |
| 10. | CSM Fagaras | 2 | 1 | 0 | 1 | 51:58 | 3 | |
| 11. | Minaur Baia Mare | 2 | 1 | 0 | 1 | 57:65 | 3 | |
| 12. | CSM Focsani | 2 | 0 | 0 | 2 | 49:53 | 0 | |
| 13. | Iasi | 2 | 0 | 0 | 2 | 56:60 | 0 | |
| 14. | CSM Bucuresti | 2 | 0 | 0 | 2 | 52:59 | 0 | |
PHOTO: HC Dobrogea Constanta FB