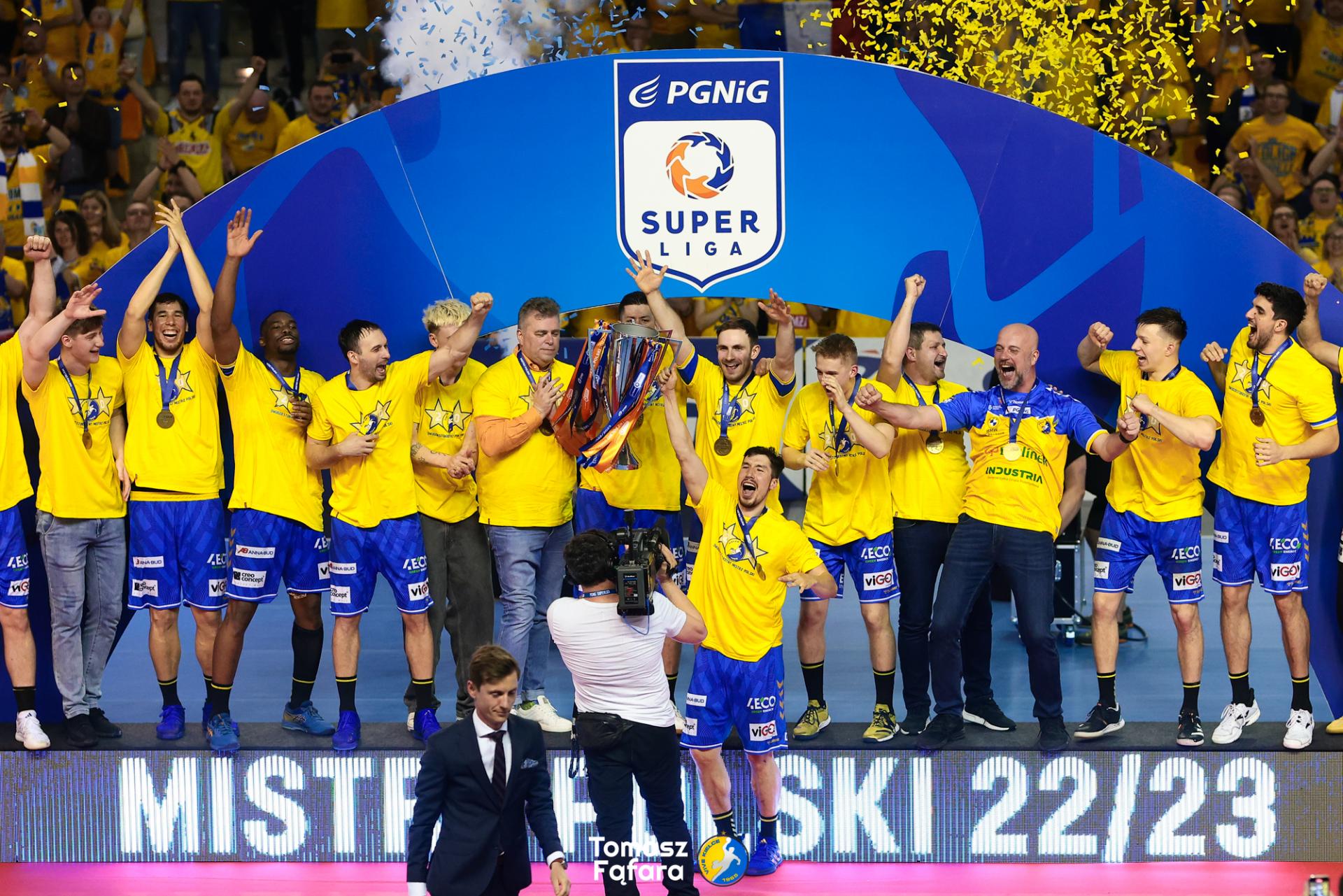 Świętokrzyska Industrial Group Industria SA became the new owner of Polish giant Kielce. At the press conference in the Legionów Hall, the composition of the new management board and the new name of the club were also announced. Ms. Magdalena Szczukiewicz took over as president, and Mr. Paweł Papaj as vice-president. 
This information was officially announced by president Bertus Servaas at a press conference on Friday at the Hala Legionów floor. –
ŚGP Industria acquired 100 percent of the club's shares. I am grateful to President Szczepan Ruman for this decision. I would also like to thank everyone I have worked with for over 20 years, because together we built this club. And now the most important thing is its future, said former president Bertus Servaas. 
His place on the management board was taken by Mrs. Magdalena Szczukiewicz, who took over the position of president , and the former marketing director, Mr. Paweł Papaj, became vice-president . In turn, the president of ŚGP Industria SA, Mr. Szczepan Ruman, joined the supervisory board. 
– I am guided by two principles in my work and life. It's hard work and respect. That is why I pay respect to the outgoing authorities. I hope that they will share the secret of success with me and I assure you that we will continue the traditions of the club. I expect diligence from myself and my colleagues. I undertake that I will do my best to ensure that the club functions at the highest level – said the president of the club, Magdalena Szczukiewicz. 
Anna Krupka, Deputy Minister of Sport and Tourism, who participated in the conference, pointed out that we were returning to the historical name. – "Iskra" is a legendary and historical name that our parents remember. Therefore, the name of the club will be KS Iskra Kielce SA – informed the Deputy Minister of Sport and Tourism. 
The team's name will be Industria Kielce . This is the name under which it will start Sunday's match in Zabrze against Górnik.
The Friday conference on the floor of the Legionów Hall was also attended by the president of ŚGP Industria SA Szczepan Ruman, MP Krzysztof Lipiec, president of Kielce Bogdan Wenta, member of the board of the Świętokrzyskie Voivodeship Tomasz Jamka and coach Talant Dujshebaev and some players.