Telekom Veszprem routine job against Aalborg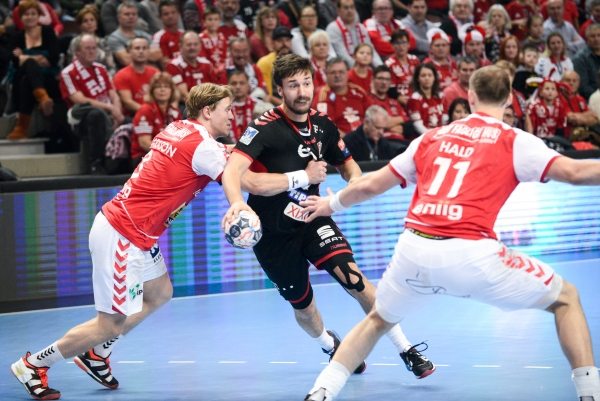 Hungarian Telekom Veszprem kept the leading position at VELUX EHF Champions League Group B by routine home victory over Danish Aalborg Handbold 30:24 (16:10). After small break due EHF week of the national teams, Ljubomir Vranjes extended winning run on the bench of one of the biggest favorites for winning EHF CL trophy in Cologne next May.
Mate Lekai continued with good performance. Domestic playmaker netted seven goals for the new success of his team.
Telekom Veszprém – Aalborg Handbold 30:24 (16:10)
Telekom Veszprém: Mikler – Manaskov 2, Schuch, Ilic 3, Tönnesen 2, Gajic 3, Nilsson 3, Accambray, Ugalde 1, Marguc 3 (1), Ancsin 3, Terzic, Blagotinsek 3, Jamali, Lékai 7
Aalborg Handbold: Pedersen, Aggefors – Smarason 2, Wiesmach 2, Barthold 2, Larsen M. 1, Hesselund, Hald 6, Saugstrup 2, Holst 4, Ellebaek, Jotic 2, Atlason, Meinby, Antonsen 1, Juul-Lassen 2 (2)
STANDINGS:

| | | | | | | | | |
| --- | --- | --- | --- | --- | --- | --- | --- | --- |
| 1. | Telekom Veszprem | 6 | 5 | 1 | 0 | 184:164 | 11 | |
| 2. | Paris SG | 5 | 4 | 0 | 1 | 151:136 | 8 | |
| 3. | Flensburg-H. | 6 | 3 | 2 | 1 | 168:157 | 8 | |
| 4. | Meshkov Brest | 6 | 2 | 1 | 3 | 162:164 | 5 | |
| 5. | Kiel | 6 | 2 | 1 | 3 | 139:153 | 5 | |
| 6. | Vive Kielce | 5 | 1 | 2 | 2 | 141:137 | 4 | |
| 7. | Celje | 6 | 1 | 1 | 4 | 180:196 | 3 | |
| 8. | Aalborg | 6 | 1 | 0 | 5 | 155:173 | 2 | |
PHOTO: Telekom Veszprem, Vörös Dávid