December marks the start of the international handball competitions season and, once again, it kicks off in Serbia. Defending champions Norway have changed more than a third of the team since the triumph in Brazil two years ago. Expect them to be extra motivated to win at the site of last year's surprise European Championship final defeat to Montenegro. Below is a guide to the obstacles Norway will need to overcome in order to retain the title, and the teams that are eager to dethrone it.
Main storyline: Montenegro shocked Norway in the final of last year's European Championship, despite playing the first major competition without Bojana Popović. A year on, we get to find out if that was a fluke or whether Montenegro is here to stay as a contender.
Favourites: Norway
Biggest rival: Montenegro
Outside bet for the title: Hungary
Expectations for the host: Having finished fourth on home soil last year, Serbia is surely dreaming of another trip to the semi-finals, but the quarter-finals might be more realistic.
Seven players to watch:
* Katrine Lunde (goalkeeper, Norway)
* Susan Thorsgaard (pivot, Denmark)
* Siraba Dembélé (left wing, France)
* Eduarda Amorim (left back, Brazil)
* Milena Knežević (playmaker, Montenegro)
* Zsuzsanna Tomori (right back, Hungary)
* Woo Sun-Hee (right wing, South Korea)
Five unmissable group games:
* Norway – Spain (7 December), The defending champions open against their toughest group opponent
* Serbia – Brazil (10 December), These are two "second tier" sides with semi-final ambitions, in what is likely to be a three-team race for the top spot in Group B
* Serbia – Denmark (11 December), Denmark is the other potential contender in Group B and will be seeking to avenge last year's defeat to the hosts in the Main Round
* France – Montenegro (11 December), Their first competitive meeting since the fantastic quarter-final at the London Olympics
* Hungary – Germany (13 December), Two of the most established nations in women's handball are gradually recovering from a few years of disappointment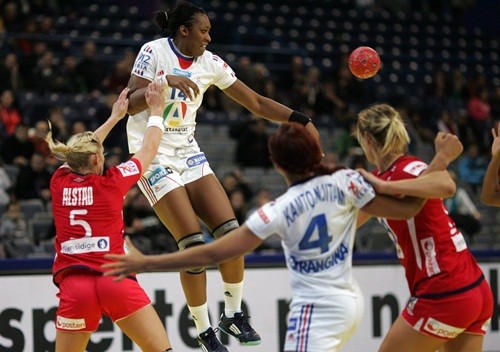 Every team in a sentence (in my predicted order of finish):
* Norway – The defending champions are still the team to beat, especially with Lunde re-establishing herself as the world's best goalkeeper
* Hungary – The recovery, after missing out on the last World Championship, has been swift with the backbone of the team being formed by members of European club champions Győri
* Montenegro – Strength-in-depth and surprisingly strong goalkeeping brought about the young nation's first major championship last year, and the former is still true for this year's squad
* Spain – Much like the men's side, Spain's women's team is always thereabouts but will need a start performance from someone in order to go all the way
* Brazil – The best non-European side needs to change its reputation as a team that dominates the group stages only to crumble in the knock-out stages
* Denmark – The experimental side sent to the European Championship was more successful than expected, which of course places lofty expectations on young shoulders for this tournament
* Germany – Will be keen to finish in the top two in Group D in order to avoid a likely second round clash with the superior Norwegian and Spanish sides
* Serbia – Two positives for the hosts compared to last year: dominant pivot Dragana Cvijić has recovered from a major injury, and playmaker Andrea Lekić has re-discovered her best form
* France – As always with France, the talent is there but the consistency may not be
* Romania – Former World Player of the Year Cristina Neagu has played well for her club following a prolonged recovery from injury, and there is enough talent around her to reach the quarter-finals
* South Korea – The surprise Olympic semi-finalists in London are always a tough opponent with their fast pace, and seem to be bringing through a promising new generation of players
* Angola – These days an established member of the highest-level competitions, but Angola remains far from being a true contender
* Netherlands – Having overcome Slovenia and Austria in qualifying, the Dutch shocked Russia in the play-offs and are a team that must now be taken seriously
* Poland – Backcourt players Kinga Byzdra and Alina Wojtas form the heart of a solid team
* Czech Republic – A relative European newcomer, the Czech Republic had an easy qualifying route after avoiding a last place finish in its group at the European Championship
* China – The runners-up in the Asian Championship will likely battle Japan for the fourth place in Group B
* Japan – One of the surprise teams of the 2011 World Championship, Japan appears to have taken a step back in the intervening years
* Tunisia – Africa's second best side would look to do better than two years ago and make it out of the group stage
* Argentina – It would take a pretty big shock for the Pan-American Championship runners-up to make it out of Group C
* DR Congo – The competition's only debutants are in tough Group A and will hope to avoid a last place finish
* Paraguay – Will look to beat neighbours Argentina to avoid a last place finish in Group C
* Algeria – Algeria is a clear underdog in Group B, playing in its first World Championship for 16 years
* Dominican Republic – Will compete with DR Congo for the fifth spot in Group A
* Australia – Just as uncompetitive as the men's team, having never earned even a point in six World Championship appearances
TEXT: BEN SHAFRAN