Timur Dibirov for HP: 'Vardar fans will prepare "hell" for FC Barcelona and PSG Handball'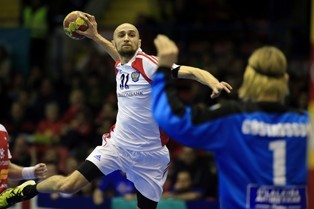 In the preparation for the new season in which HC Vardar Skopje will be playing in the Champions League, brought new reinforcements for the club. One of the star signings this summer is Timur Dibirov, the prolific left wing that joined the club from Chekhovski Medvedi along with three other players from the same club. For Handball-Planet.com he spoke about the draw yesterday in Vienna which sees his new club Vardar Skopje take on FC Barcelona, PSG Handball, Wacker Thun and two other clubs. Timur Dibirov also spoke briefly on the new SEHA league season and its future.
HP: The summer transfer window has been quite active for Chekhovski Medvedi, a team with difficult financial situation had to see many of its players leaving the club. For Rastvortsev, Shishkarev, Chipurin and star signing Dibirov the new destination is Vardar Skopje. What was the key for signing for Vardar and not some other top European club? Promise of good club future, of good money, or the good links of Samsonenko?
Timur Dibirov: My choice and the choice of my partners, is the belief in a new successful project which is developing in Skopje, and mostly these were the words of Samsonenko – the clubs sponsor, that we will do our best to bring success in Skopje. Club with such great fans, must rightly be called top club and it is our obligation to make his story more successful and bring success in Skopje, and reward the fans with victories over big European teams!
HP: Vardar is going to have a very hard time in the upcoming Champions League edition. Drawn in the "Group of Death" together with FC Barcelona, PSG Handball, Wacker Thun, possibly Dinamo Minsk and Montpellier or even Metalurg. How far can Vardar get in the Champions League? Can they make it to the Last 16 Phase?
Timur Dibirov: This is a great group which all handball fans will be monitoring closely, Vardar will show its strength, I am sure, and I can say that the contestants arriving in Skopje will go through "hell" atmosphere, our fans will arrange it!
HP: Which team(s) according to you are biggest favorites to win the Champions League?
Timur Dibirov: A lot of clubs strengthened this season, and a favorite of many, this will be the strongest tournament over the past few years, Barcelona, Kiel, Veszprem, PSG – are the main favorites, but there are a lot of teams that could surprise!
HP: Vardar in this coming year is again one of the main favorites to win the regional SEHA league, sponsored by GAZPROM. Zoran Gobac said that the league will be the best in Europe in two years. How do you see the future of SEHA, can it really grow into Europe's strongest – and is it possible to make strong SEHA without Hungarian and Polish clubs?
Timur Dibirov: Knowing the extent of the Russian company is willing to do, and very much they will do in order to make the regional league rival of the Champions League, but without the leading clubs in Europe it is difficult to make it high-level, but after the Hungarian and Polish clubs join, its rating will increase. This will be a lot of work for its advertising managers, but in the end the league should be a top product!
BORJAN ZAFIROVSKI
Polls

Loading ...