Handball-Planet.com prepared list of TOP 10 "best buys" for season 2011/2012. Our list consists players, which have the best performances for their new teams in current season in domestic or international competition: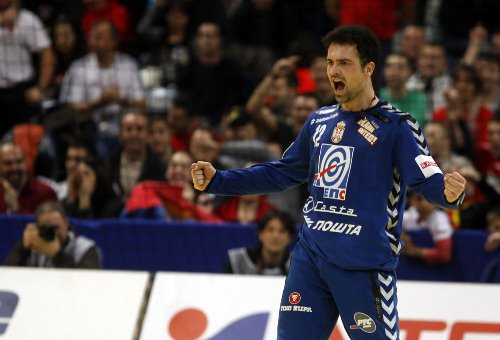 1.  DARKO STANIC (goalkeeper, HC METALURG SKOPJE)
When he left Cimos Koper last summer after problems with club Management in order just to play before 2012 and start of contract with German Frisch Auf Goppingen, nobody expected that Darko Stanic will become the best European goalkeeper at EHF EURO 2012 and the most popular athlete in Skopje. Maybe the only one was Lino Cervar. However, Darko Stanic and Metalurg was "win-win" combination. Macedonian champion won second place in SEHA League and made the best result in the EHF Champions League – TOP 16 phase. After all, Metalurg has strong wish to keep Stanic even he has a three years contract in Germany…
2. GUDJON VALUR SIGURDSSON (left wing, AG COPENHAGEN)
He wasn't so happy, when he had to change Bundesliga for Copenhagen, but his performances in Danish champion talked about great athlete and proffesional. "Air Icelandic" has fantastic season in Denmark, where he recovered his self-confidence after losing"best seven" position from Uwe Gensheimer in Rhein Neckar Lowen.  His next station is THW Kiel.
3. NIKOLAJ MARKUSSEN (left back, BM ATLETICO MADRID)
After only few matches in Spain It was clear that he will be important part of Madrid's squad. "Danish giant" made a huge step with signing for Atletico, but also with Danish squad, where he became a vital part of the golden team at EHF EURO 2012 in Serbia.
4. MATTIAS ANDERSSON (goalkeeper, SG FLENSBURG)
With such a experienced goalkeeper, you can't miss. That was probably the first mind of Ljubomir Vranjes, when he began to think about Swedish NT player. Andersson showed great performances this season, team is playing well, EURO Cup triumph is close…
5. MOMIR RNIC (left back, FRISCH AUF GOPPINGEN)
Serbian left back is like a "bomb", great shooter, fast and aggresive. After three years in Slovenia, he looks ready for all Bundesliga challenges. With this level of performances, Goppingen will have a lot of problems to keep him…
6. ANTONIO GARCIA ROBLEDO (left back, ADEMAR LEON)
He is playing in best form ever. Garcia Robledo becomes a part of Spanish NT squad, but also one of the best player in Leon's success – TOP 8 in the EHF Champions League.
7. KENTIN MAHE (playmaker, VfL GUMMERSBACH)
With a remarkable junior career, French playmaker showing great development in serious competition as Bundesliga. After Dormagen, Mahe is one of the best player of Vfl Gummersbach and one of the youngest in the whole League.
8. HOLGER GLANDORF (right back, SG FLENSBURG)
After just average period in TBV Lemgo, German NT player is playing much better on German-Danish border.
9. GABOR ANCSIN (right back, PICK SZEGED)
The biggest talent of Hungarian handball finally found good place for development. Pick Szeged gives Ancsin a space to show great potential. Matches in the EHF Champions League shows that bright future is in front of him.
10. ZARKO MARKOVIC (right back, HC METALURG)
He was the best right back of generation 1986, but then lost his track. After bench of MKB Veszprem and some average episodes in Montenegro and Middle East, left-handed player found happiness with Lino Cervar and Metalurg.