Weakened TATRAN Presov defeated by Montpellier HB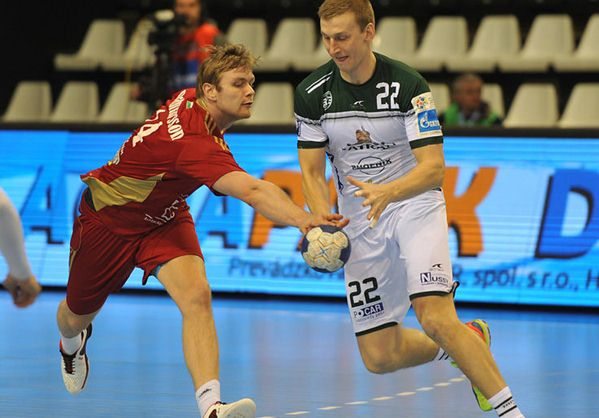 In the 7th round of Group C in the Champions League TATRAN Presov lost to Montpellier HB 24:28 in TATRAN Handball Arena, Presov, Slovakia.
After the 7th round of the group phase of the Champions League TATRAN Presov are the 4th in the incomplete table of Group C with 6 points. In the 8th round the Slovakian champions travel to Macedonia to meet HC Metalurg Skopje. The game is scheduled for Sunday 27 November 2016 at 17:30 CET in Skopje, Macedonia.
Post-match statements
Rastislav Trtik, coach of TATRAN:
"I would like to congratulate Montpellier on their deserved victory. They have an excellent coach, strong team that is athletically prepared in a perfect way and plays with very good concept. Experience of individual players such as Guigou, Kavticnik, Grebille and other ranks Montpellier among the world teams. We knew everything about them before the game. We needed to adjust this knowledge to our tactics. Moreover we missed our key back player Oliver Rabek in defence and attack. When we played classic handball, Montpellier were undoubtedly better. Last 20 minutes we risked a lot. We opened our defence with 2-4 defensive system. We stole several balls and put Montpellier under pressure. Finally we were able to score easy goals, because we could not get through their 0-6 defence before. We know our weaknesses. Despite that it could have been even closer game."
Dominik Krok, left back of TATRAN:
"I will not lie at all if I say we wanted to win this game. We believed we could manage it. However, Montpellier showed on the court they are a top team. We made a lot of mistakes in the first half, when our defence did not work properly. In the second half we changed the system after several minutes. We started to play 2-4 defence. We managed to reduce the score. If we did not make so many mistakes, we could have reached a better result. Congratulations to Montpellier on their win."
Alexey Peskov, right back of TATRAN:
"In the first half we started in a normal way, but later on we were weak in the attack. We managed to score only 9 goals in 30 minutes, which was really bad. We desperately missed Oliver Rabek, who injured his ankle, which was reflected in our attack. We also unnecessarily lost a lot of balls and were punished for it by the opposite side. In the second half we improved performance of our backs and started to score goals. Both goalkeepers helped us too. It was very difficult, sine we were down by 7 goals in the game. It is very demanding task to reverse such a big gap against Montpellier. We would like to thank to our amazing fans for creating great atmosphere during the entire match. They were real 8th player of our team today."
Viacheslav Sadovyi, left back of TATRAN:
"We knew we were going to play tough rivals. In the first half we did not manage to score goals in the attack at all. We uselessly lost our balls and allowed Montpellier to score easy goals. In the second half we got back into the match, but we did not manage to reverse the score against such strong a strong team as Montpellier are. We are going on. We are still playing 3 more games in Group C. We have to win these matches to have the chance to qualify for the next stages of the Champions League."
Patrice Canayer, coach of HB:
"I would like to thank TATRAN for a good game. I am pretty satisfied with the result. The victory in Presov is always a good result. We were able to play the highest level for 45 minutes of the game and we presented very good handball. In the last ten minutes TATRAN got us under pressure. We were maybe too relaxed at that time. I would like to wish TATRAN good luck in the following games in Group C."
Miha Zvizej, line player of HB:
"I agree with my coach that we played a very good game in the first 45 minutes. We knew it would be a very tough match here in Presov. We played with TATRAN at home in the 1st round but it was totally different game. Today it was a good match. It is great to win in Presov, even though we had couple of worse minutes in the end of the game. We can be really satisfied with the victory."
Champions League 2016/2017 – Group C – 7th Round – 19 November 2016
TATRAN Presov (SVK) – Montpellier HB (FRA) 24:28 (9:14)
TATRAN: Chupryna, Brazhnyk 1 – M. Sarpataky, Hrstka 1, D. Krok 6, Recicar, Sadovyi 5, L. Urban 4, Pekar, Cip 1, Peskov 4, Vucko 1, Resovsky, Jankovic, Pales 1, Tsarapkin. Coach: R. Trtik.
HB: Gerard, Portner – Anquetil, Simonet, Causse, Truchanovicius 3, Toumi 3, Grebille 2, Dolenec 6, Guigou 3, Zvizej, Kavticnik 5, Faustin, Fabregas 6, Porte. Coach: P. Canayer.
Referees: Madsen, Mortensen (DEN), 7m given/goals: 1/1 – 3/2, 2´ penalties: 6 – 6, Spect. 2500.
Group C:
Montpellier HB 7 5 0 2 201:174 10
Naturhouse La Rioja 7 4 1 2 209:194 9
Chekhovskie Medvedi 7 2 2 3 196:196 6
TATRAN Presov 7 3 0 4 185:194 6
Elverum Handball 6 2 1 3 152:162 5
HC Metalurg Skopje 6 2 0 4 127:150 4
Author: Richard Fech