With France preparing their last match in Group C against Serbia, having already secured their place in the Main Round; one of the biggest stars in 'Les Experts' team, Nikola Karabatić shares his views on the Championship.
When in doubt- Karabatić! It was evident in the match against Poland, when the attacking option ran down; when, as many times before Karabatić took the matter (ball) into his own hands,breaking down the opponent with a series of great moves.
– When it goes downhill, it is either Narcisse or myself that calls the play. It comes natural, as we are the most experienced. We look for a solution, how to outplay the defense; that's what the coach and the team expect from us. I know I have to make decisions in moments like these.
You've already secured the Main Round, but the points from Serbia are needed to complete to seal the deal.
– There will be no favors for Serbia from us. This is an all-important match. We know in case of a loss we take only two points into the Main Round- our main goal is (to take) four.  I know that defeat against us can call an end to Serbian hopes in the championship.
You have done well in your first match, against Russia, only to face struggle against Poland
– We play a fine defense, and our attack as well as power play has improved. We are better in tactical aspect, that's what matter to us. We've had solid performance against Poland; created a number of chances to wrap up the game earlier, with more than a one-goal lead. We fought all the way and won in the end- that is very important.
What are your expectations in a match against Serbia?
– It's going to be a tough match. Serbia must not lose, and it is always difficult playing against someone who is 100% motivated. Serbia has an excellent team, great players and defense as well as a goalkeeper with great experience. Tactical imperfections are visible, but the know how to play handball. There are players that can win games on their own like Vujin, Nenadić or Ilić. Serbia's got all their positions well covered.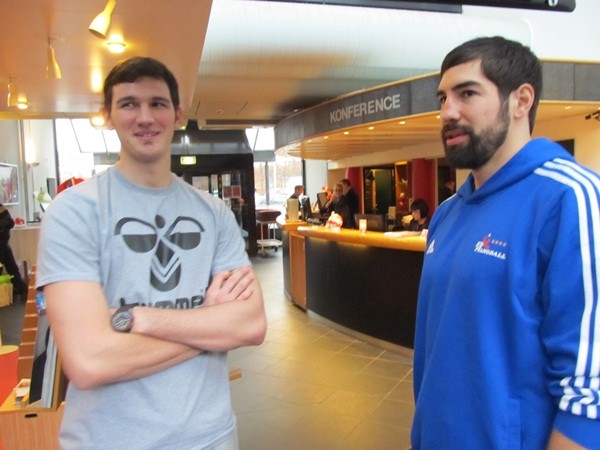 You've had a tough year behind you, loosing the World Champion's title in Spain. You must be have a very big motive to climb back up to the very top.
– That is our great motivation. People do not know what France is capable of yet. We are like outsiders right now. We're not among the favorites any more. Our goal is to prove we can still get back to the top; others beware!
BRONZE IS NOT ENOUGH TO ME
You are used to winning the Gold. Is any other medal of significance to you, like for example Bronze, or is it only Gold that satisfies you?
– I do not feel Bronze is enough for me. But looking at how many quality teams are playing here, every medal is a success. We are taking it game by game, the will be enough time to think about what and how (to do). I don't want to get ahead of myself.
It would most certainly be a pleasure to win against Denmark in front of 14.000 of their fans in Herning.
– Yes. And we have done it more than a few times. We've defeated the host, Croatia at the World Championship in 2009, with 16.000 home fans witnessing.  We won against Denmark in the 2011 World Championship final in Sweden, in what felt like playing an away match in Denmark, really. These victories are the sweetest. It is difficult, but we know it's possible- boasts Karabatić confidently.
TEXT: ZIKA BOGDANOVIC & NEMANJA SAVIC
PHOTO: Bjørn Kenneth Muggerud/Handballpix.com