EHF
Women at the heart of the game: Amandine Leynaud's success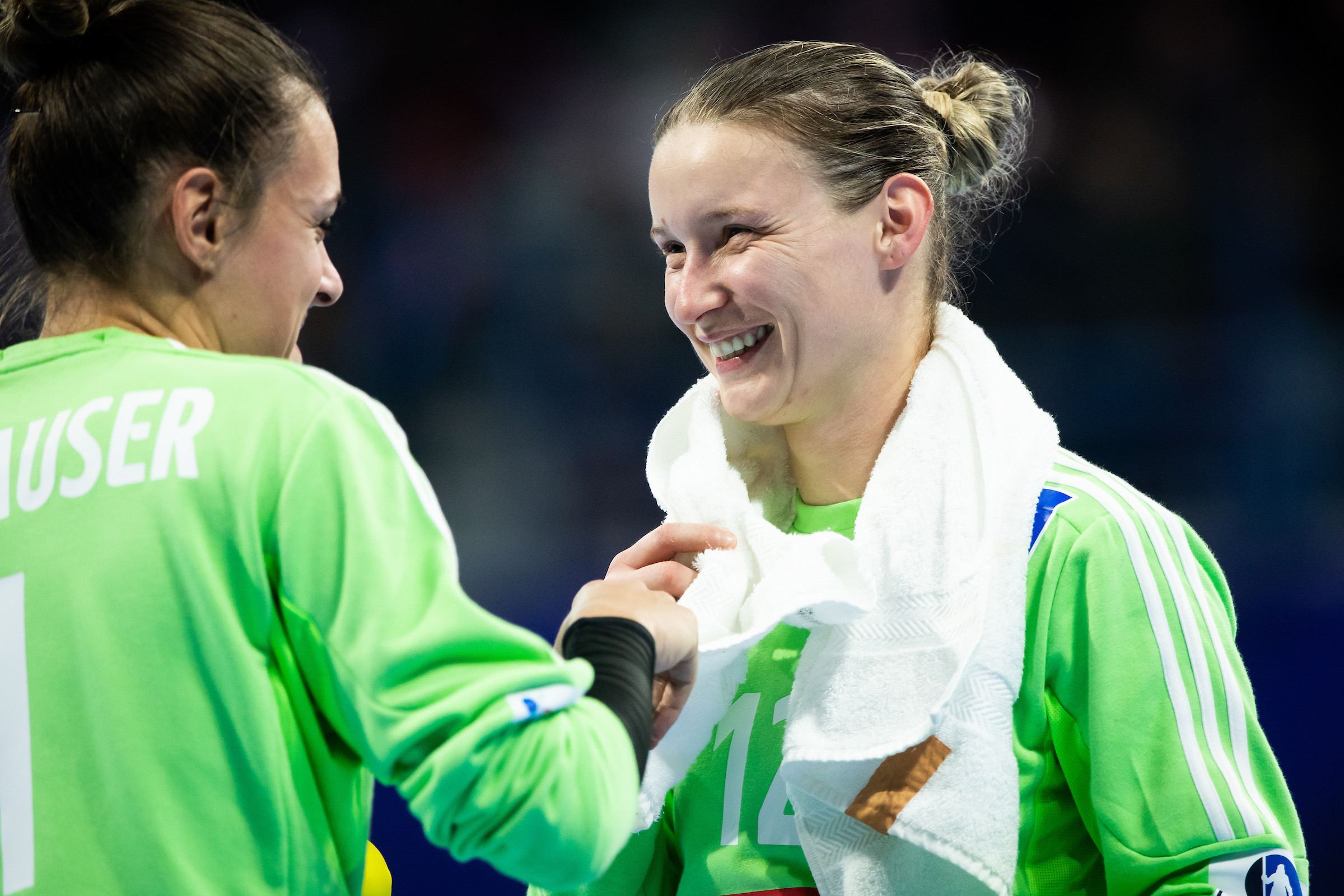 Women at the Heart of the Game is a weekly series in the build-up to the Women's EHF EURO 2022 that features former stars who have transitioned into a new role.
In this seventh episode, we introduce you to Amandine Leynaud. A former top handball player with a gold medal from all three major tournaments: Women's EHF EURO 2018, IHF Women's World Championship 2017 and the Olympic Games 2020. Not only that but Leynaud has also won five big honours, including the EHF Champions League Women title and who is now a goalkeeper coach of the French national team.
We are only eight days away from the start of the 15th edition of the Women's EHF EURO. On Friday 4 November, all eyes will be on 16 teams playing with heart for the throne in Slovenia, Montenegro and North Macedonia. One of the teams who are always among the favourites for a medal is France, the third most decorated national team in EHF EURO's history.
One of the players who was a part of six EHF EUROs, has three medals from it and sat on the throne is Amandine Leynaud.
She's a past EHF EURO champion, winning the title in 2018 with France who she won the Olympic and World titles with too. With 28 national honours at club level and 250 caps for her country, this year Leynaud returns to the EHF EURO in a different role – as the French goalkeeper coach.
But how did this passionate player with a rich and successful career begin her handball journey?
"I started to play in school. At the time I played a lot of different sports and I really loved that," explans Leynaud to eurohandball.com.
"It all started by coincidence. Someone from a club in my hometown came to see our training at school. After the training, they told me to join. I went to the club for my first training and never looked back. My mum used to play as a wing when she was younger and from all sports I used to train, I found handball to be mine too."
Since her first breakthrough on the international scene, Leynaud was a nightmare for the opponent's attack. However, in her handball beginnings while in school and in Aubenas, she wasn't always a goalkeeper.
"I did not have specific wishes at the start," she says. "While in school I used to play in different positions but it was the club where I started my goalkeeping journey. We were changing positions at the start of the club but from the moment I first stood between the posts, I loved it. I think I was not so bad and when the time came to choose, I stayed in the goal. That's how everything started.
"At the start, handball for me was fun and games. 20 years ago, I didn't know about professional handball. I never saw a match on TV and at the time it was just for fun and friends. But, as time passed, everything started to become more serious, I started to watch matches on TV. When I was around 15 years old, I slowly started to realise I can be a professional."
Leynaud's first club was UGAP Bourg-de-Péage where she spent her teenage years and the place where she started to realise handball could be more than just fun and games.
Even though she discovered what a serious injury means already at an early age, she was determined to go forward. When she was only 18, Leynaud joined Metz, where she spent eight years, before leaving her mark in Vardar and Győr.
"Life brings you different things and you have to be positive about it. I had ACL surgery when I was 16 and it wasn't easy," she says. "I didn't play for a year but still, I signed for Metz when I was 18. I just love challenges and working hard to achieve something. That is what lead me through life. Metz was my first big club and I really loved playing there."
Leynaud also had a short stint in Romania before heading for North Macedonia and the powerhouse club, Vardar.
The Skopje-based club left a special place in her heart.
"I broke my knee when I signed for Ramincu Valcea, I missed EHF EURO and things did not turn out as I wanted. The club, unfortunately, had financial problems and I had to find a new club. All that has brought me to Vardar," she says.
"My heart was full in Skopje. I really loved the team we had, the city, the people and the country. Even though we didn't win the Champions League trophy, we really were like family. I loved living there and that we were able to play five EHF FINAL4s. We were so close to winning it."
The year 2022 marked her farewell to professional handball, a sport in which Leyuand left her footprints for many generations to come. The final goodbye came after finishing second at the EHF FINAL4 with Győr, a club where she spent four years.
"My last club was Gyor, where I finally won EHF Champions League. It was such a great experience and I am so happy I was able to lift the trophy and to play many more exciting games in Hungary," she says.
"It was difficult to say goodbye to handball, after all, it was part of my life for 20 years. Every day, 365 days a year, you have handball in your thoughts. At the same time, I know it was a good choice for me. I was thinking about it for some time and I was lucky that I finished my career also at the peak, with a medal from the national team and club," says the 2019 and 2020 best goalkeeper of the EHF Champions League.
Amandine Leynaud and her wife Annabelle are mothers to five-year-old twins Marcel and Mila. With family always important, the couple made the decision of retirement a little bit easier says Leynaud, who returned to her hometown. 
"It is totally different. When you have a family and children, you start to think about them also. And they can make your decision a lot easier," she says.
"You are able to spend more time with them, you have more time for yourself and altogether it turned out to be a positive thing. So, it had an influence but it was not my main reason. Nevertheless, I enjoy my life now."
Leynaud participated in four Olympic Games, seven World Championships and six EHF EUROs, has five medals in total and huge experience after 16 years of playing for France. 
"Every medal with the national team is special, and every time there is a new story. I could say that our first World Championship gold medal is the one I remember the most as it was our first gold medal," she says.
"After three silver and a bronze medal from three major competitions, we finally went to the top. Of course, I am proud that we won Olympic gold in Tokyo, which was a great way of saying goodbye to the national team."
Only four years ago, France together with Leynaud, finally lifted the European trophy after coming in third and fifth at the two previous editions. On their home court, in front of 14,000 fans inside the AccorHotels Arena in Paris, France beat Russia 24:21, with Leynaud saving eight times at 38% efficiency with a little help from teammate Laura Glauser.
"Winning EHF EURO 2018 was one of the most difficult things as we had a lot of pressure as hosts," Leynaud says.
"We came to the competition as World Champions and everyone had high expectations. But despite that, we had really good support and we played at a high level. The feeling to win two titles in a row was indescribable, and everything that came after was just proof of our quality, except the World Championship 2019 in Japan."
Her final goodbye to the national team was after Olympic Games in Tokyo but a year after she is back in the team with a new role. As a goalkeeper coach, she will try to help her former teammates to reach the top again in a new position that she enjoys very much.
"I feel really good. It is an advantage for me," she says. "I know how the staff is working and I know the girls. We have a lot of respect between the staff and the players. It can look complicated maybe but for me it is normal. I feel like I never left the team. I am here for them, for my former teammates and I want to help them.
"This is my job now even though I always liked to share experiences. However, now I am only focused on them, I don't have to be focused on my preparations and my performance. I am grateful to be a coach in the national team and to represent the French jersey again, now in a different role."
So what about the expectations for the upcoming EHF EURO?
"We hope to be among the top four teams. If we do that, we will be very happy," says Leynaud. "We have a lot of new, young players and we want to continue on the good path. It's time for work and it is interesting to see how things will turn out and how we can progress during this competition."
Having such great success, medals, awards and honours makes Leynaud eager to share her knowledge, and, as she says, she would feel a little bit guilty if she doesn't do it.
"Handball gave me a lot of things in my life, as a person and as an athlete. There are not so many goalkeeper coaches that have such big experience. I want to share for the future, for the young and the national team."