IHF
Women's WC 2023: Preliminary round groups drawed!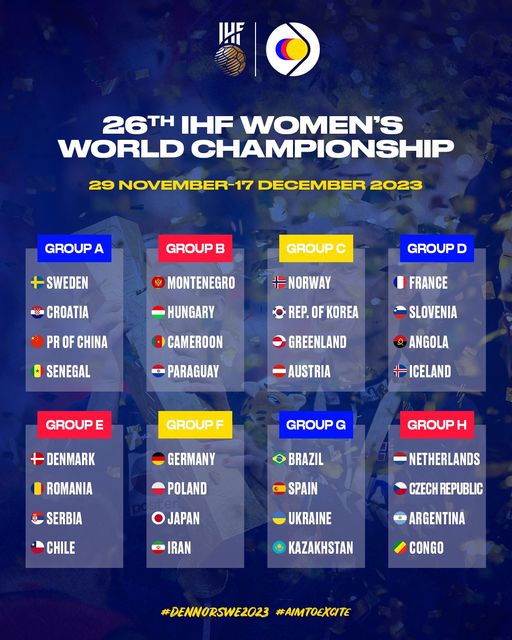 The 26th Women's World Cup will take place from November 29 to December 17 in Sweden, Norway, and Denmark. Today's draw in Goteborg divided the total of 32 NT into eight preliminary round groups.
The top three teams in each group will advance to the main round, and the fourth-place teams will advance to the President`s Cup. The two best teams in each of the four main round groups will advance to the knockout round. Due to the 2024 Olympic Games in Paris, the teams will also play a placement round for placement 5-8.
Group A (Göteborg/SWE)
Sweden
Croatia
China
Senegal
Group B (Helsingborg/SWE)
Montenegro
Hungary
Cameroon
Paraguay
Group C (Stavanger/NOR)
Norway
South Korea
Greenland
Austria
Group D (Stavanger/NOR)
France
Slovenia
Angola
Iceland
Group E (Herning/DEN)
Denmark
Romania
Serbia
Chile
Group F (Herning/DEN)
Germany
Poland
Japan
Iran
Group G (Fredrikshavn/DEN)
Brazil
Spain
Ukraine
Kazakhstan
Group H (Fredrikshavn/DEN)
Netherlands
Czech Republic
Argentina
Congo