13 TITLES: HC Tatran Presov extend domination in Slovakia!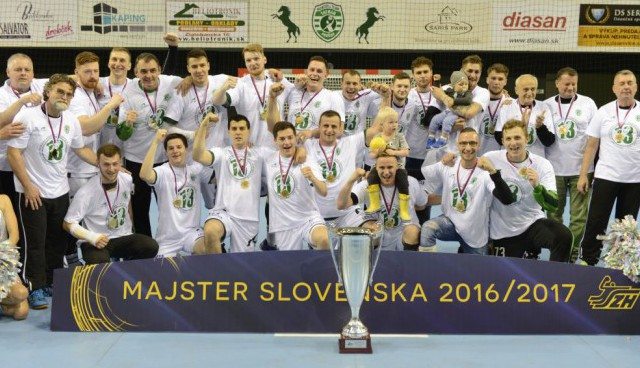 HC Tatran Presov are the new-old Slovakian champions! The EHF Champions League contenders won the 13th domestic title and extended domination in national competition. Team from Presov beat HKM Sala 34:25 (16:13) in the third match of Play-Off Final.
The first wo Tatran won 30:25 and 27:30.
Era or Rastislav Trtik is over. Slavko Goluza will overtake job in Presov from the beginning of the new season.
Tatran Prešov – HKM Šaľa 34:25 (16:13)
Tatran: Bražnyk, Čupryna – Rábek 6/2, M. Šárpataky 1, Hrstka 8, Ľ. Šárpataky 1, L. Urban, Pekár 1, Číp 3, Peskov 7, Vučko, Jankovič 4, Páleš 3, Carapkin
HKM: Repáň, Žernovič 1, Fabián – Meľnyk, Guzy 4/2, Michniewicz 2/2, Krokavec 1, T. Mažár 5, Szapu, Polakovič 4/1, P. Krok, Janíček 1, F. Šulc ml. 6/3, Maguška, Dudáš 1
SLOVAKIAN CHAMPIONS SINCE 1993:
1993/1994 Lokomotíva Trnava
1994/19995 Agro VTJ Topoľčany
1995/1996 Agro VTJ Topoľčany
1996/1997 VSŽ Košice
1997/1998 HC Topoľčany
1998/1999 VSŽ Košice
1999/2000 ŠKP Sečovce
2000/2001 ŠKP Sečovce
2001/2002 MŠK Považská Bystrica
2002/2003 MŠK Považská Bystrica
2003/2004 ŠK Tatran Prešov
2004/2005 Tatran Prešov
2005/2006 MŠK SIRS Považská Bystrica
2006/2007 Tatran Prešov
2007/2008 Tatran Prešov
2008/2009 Tatran Prešov
2009/2010 Tatran Prešov
2010/2011 Tatran Prešov
2011/2012 Tatran Prešov
2012/2013 Tatran Prešov
2013/2014 Tatran Prešov
2014/2015 Tatran Prešov
2015/2016 Tatran Prešov
2016/2017 Tatran Prešov