ASOBAL (Round 13): Barcelona wins in Madrid against Atletico, with one hand on the league trophy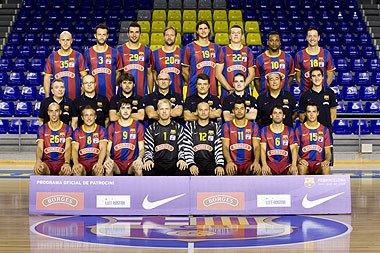 Atletico Madrid had to win today's game in Palacio Vistalegre if they wanted to keep the champions race for the ASOBAL tight, but failing to do so, they are now trailing behind Barcelona by three points. The last week draw against Aragon and now defeated by Barcelona means that Barcelona is very close to defending the title in Spain, since they already won in Madrid and being undefeated so far means they're having the upper hand  in the title fight.
Barcelona were indeed the better team taking the lead early and keeping all the time, despite some attempts by Atletico to get close and try an equalizer, Barcelona played well and fended off well their lead. Kallman was Atletico Madrid's best player scoring five goals, same amount of goals scored by Markussen. Raul Entrerrios was superb for FCB scoring 8 goals from 9 attempts (89%), while Arpad Sterbik was really unsolvable enigma for some of Atletico's players saving 17 shots from 39 (44%).